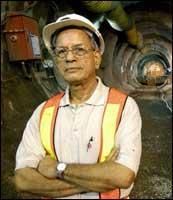 "Metro Man" E Sreedharan has emphasised integrity, punctuality and professional competence are vital factors for undertaking any major infrastructure project to avoid cost overruns.
Sreedharan, who was conferred the 'Lokmanya Tilak award' for 2013 for outstanding contribution to society, said, "In infrastructure projects time is money."
Professional competence marked the development of the Delhi metro project which was a technical marvel and also a sustainable model, said Sreedharan, considered as the architect of the ambitious Delhi metro project.
It needs to be ensured that the project causes minimum problems to people with minimum dislocation and disruption in traffic flow in the city, he pointed out.