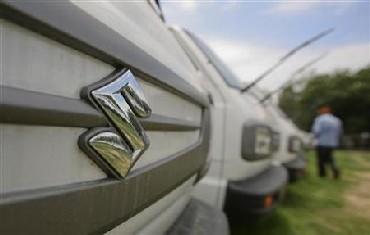 With Maruti Suzuki deliberating on when to start work at its proposed Gujarat plant, the real estate lobby has sensed an opportunity.

It is trying to build a land bank in the Mandal-Becharaji region.

According to villagers in the region, builders have been doing the rounds of the area, trying to spot suitable locations for residential projects.

A real estate consultant, too, said builders were trying to create a land bank in the area, as demand for real estate was likely to rise considerably in the coming years.

Maruti Suzuki, India's largest passenger car maker, India had chosen Hansalpur, about 110 km from Ahmedabad, as the location for setting up a manufacturing plant.

However, in August this year, the company had indicated owing to a slowdown in demand in the automobile market, Maruti would delay the commissioning of the plant.

It added only after a detailed study on the projected demand for automobiles in the domestic market would it decide when to start work at the plant.

Earlier, the plant was scheduled to be commissioned by the end of 2015-16.

Nonetheless, the company's vendors had started scouting for land in the vicinity of the proposed plant.

While leading vendors such as N K Minda Group are looking for land in the area, others such as Jay Auto Components and IRC (India) have bought land directly from farmers.

According to a real estate industry source, developers within the city have been enquiring about and planning to buy land in the Mandal Becharaji region to build a land bank.

However, sources said actual activity in this regard would begin in four-five years, once industrial development picked up pace.

"There might be some realignment in the area and there are chances of much of the land being included in the special investment region and
the dedicated freight corridor.
In such a scenario, the prospect of owning land is very promising.
This has led to an increase in enquiries by developers in that region.
This is a good time to build a land bank in the region," said Vijay Shah, a city-based real estate developer.
According to local farmers, major real estate groups are sending agents to scout for land.
"Groups such as JP Iscon and Sambhav have been looking for land in the area.
"However, most real estate majors are approaching through their agents, as they feel villagers might seek higher prices if they realise the builders' lobby is interested," said a local sarpanch.
While several calls to Jateen Gupta, managing director of JP Iscon, remained unanswered, representatives of Sambhav could not be contacted.
Most builders were scouting for land parcels in the range of 15 and 50 acres to build township-like residential projects, the sarpanch said.
Demand for apartments is likely to rise once the Maruti plant starts functioning, as its vendors would bring professionals into the area.
The closest major town, Mehsana, is about 30 km from Hansalpur.
After Maruti's entry here, prices of land in the area soared.
From Rs 550,000-600,000 a bigha (0.4 acres) earlier, prices rose to about Rs 10 lakh a bigha around mid-2012.
Currently, these stand at Rs 20-25 lakh a bigha in and around Hansalpur and Sitapur.
ENGINES ROARING
Builders have been doing the rounds of the area, trying to spot suitable locations for residential projects
After Maruti's entry, prices of land in areas such as Mehsana and Hansalpur have soared
From Rs 5.5-6 lakh a bigha (0.4 acres) earlier, prices rose to about Rs 10 lakh (Rs 1 million) a bigha around mid-2012.
Currently, these stand at Rs 20-25 lakh (Rs 2-2.5 million) a bigha in and around Hansalpur and Sitapur