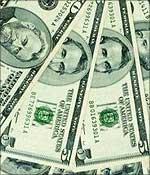 Foreign institutional investors sold shares of the benchmark index companies during the quarter ended March as Indian equities faced headwinds from rising oil prices, slowing domestic growth, weak politics, inflation and rising rates.

FIIs pared holding in the 35 S&P CNX Nifty stocks, benchmark in the National Stock Exchange, of which 24 are also part of the 30-scrip Sensitive Index (Sensex) of the Bombay Stock Exchange.

The selling pressure was evident in eight benchmark index stocks where the FIIs have pared their holding by more than one per cent each.

The selloff was more than two per cent in Dr Reddy's Laboratories, Jaiprakash Associates and Mahindra & Mahindra.

Among others, Bajaj Auto, BHEL, Infosys Technologies, Larsen & Toubro, Maruti Suzuki and Tata Motors saw shareholding decline by more than one per cent.

Holdings here comprise FIIs registered with Securities and exchange Board of India, non-resident Indians and foreign individuals, and global depository receipts.

The study is based on FIIs holding as on March 31, 2011, and as on December 2010 for the comparison.

Overall, FIIs were net sellers of Rs 7,931 crore (Rs 79.31 billion) on Indian markets during the quarter ended March, showed provisional data compiled by BSE and NSE.

The Sebi data show lower net selling at Rs 3,117 crore (Rs 31.17 billion),
mostly due to FIIs inflows through public offers.
The FIIs selling was generally sector-specific and targeted those stocks where large re-rating was noticed in the past six months.
Among Nifty stocks, selling was seen in automobiles, banks, information technology and infrastructure sectors.
A rise in FII holding in a few cases was not due to buying in the secondary market, but through overseas issues and private placement to qualified institutional bidders.
For example, though FIIs sold shares of Tata Motors on the domestic exchanges, they increased their holding through global depository shares and convertible notes.
Tata Motors issued 29.9 million shares to overseas investors in October 2009 through GDS and convertible notes, thereby taking their holding to 44.6 per cent from 30.6 per cent a year before.
Similarly, FIIs holding in Axis Bank rose 1.3 per cent during the quarter and 5.4 per cent in the year to 47 per cent through GDRs issued in September 2009.