SpiceJet on Monday said its promoter Kalanithi Maran's stake in the no-frills airline has increased by nearly 6 per cent to 22.05 per cent due to allotment of equity shares following conversion of convertible debentures.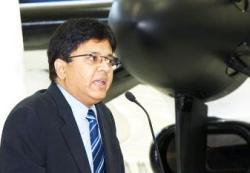 Maran's stake has risen from 16.27 per cent to 22.05 per cent, SpiceJet said in a regulatory filing to the stock exchange.

The overall holding of promoters in the airline also climbed to 52.14 per cent from 48.59 per cent at the end of March quarter.

The company has allotted 35,931,453 equity shares to Maran following conversion of 13 million Unsecured Compulsorily Convertible Debentures for an aggregate value of Rs 130 crore (Rs 1.3 billion).

SpiceJet had allotted these equity shares of Rs 10 each on April 18 to Maran pursuant to conversion of Unsecured Compulsorily Convertible Debentures of the face value of Rs 100 (Rs 1 billion) each, at a conversion price of Rs 36.18
per equity share.
The airline currently operates more than 350 daily flights to over 50 Indian cities and 8 international destinations.
Shares of the company remained unchanged to close at Rs 30.60 apiece on the BSE on Monday.
Image
: Kalanithi Maran, chairman and MD of Sun Group, and promoter of SpiceJet.