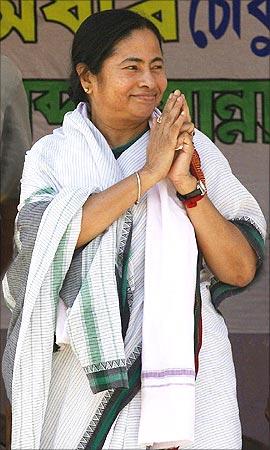 Taking her battle against foreign direct investment in multi-brand retail to rural Bengal, Chief Minister Mamata Banerjee on Tuesday told farmers and small traders that allowing foreign retail companies in the state would rob them of their land and businesses.

Asking them to resist entry of foreign retailers, she said, "FDI in retail would bring disaster to farmers and small traders who would stand to lose their land in the long run as well as their businesses and livelihood".

"Loot chalche loot, jhoot chalche jhoot" (In the name of reforms, loot is going on and falsehood is being spread), she said adding all should unite to safeguard the interests of poor farmers and retailers.

She wondered whether reforms meant pointing guns at farmers and that there would be no shopkeepers in the localities.

"They (Centre) have no ability to give employment to the people, but are trying to rob them of their livelihood."

Pointing at the villagers assembled at Nimtauri in East Midnapore district, she said, "Do you know what the FDI in retail means?

"How the small traders and the farmers would survive if their work go? Farmers plough the fields and sell their produce at the markets.

"Now they are saying
that these would be given to Walmart. I have got nothing personal against Walmart."
"But in America Walmart has been told that if it has to do business in America, it will have to buy sixty per cent of American goods," she said.
"But in our country", she alleged, "the central government did away with the 30 per cent restrictions that were there.
"This is nothing but loot," she said without explaining.
She alleged that these giant retail players would sell goods cheap for two years or so to wipe out the competition from local retailers.
"Once they have monopoly, they will hike prices and make people pay through their nose," she said speaking at programmes to unveil some government projects across the East Midnapore district.
She said that the land of the farmers and the crops would not be there in their possession if these giant retail players were allowed to rule the roost in our country.
She warned the Centre that any attempt to deprive the state economically for her protest against reforms would not be tolerated.
"We do not need money. People of Bengal would not survive at anybody's pity or alms.
She said if FDI in pension was allowed, the entire savings of pensioners would be wiped out.
Like Nandigram, this protest against FDI in multi-brand in retail would succeed, she said.