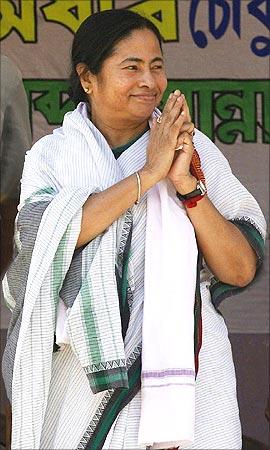 West Bengal Chief Minister Mamata Banerjee on Monday warned against any attempts to forcibly enforce general strike called on February 20 and 21 by central trade unions and said that her government will ensure normal life in the state on the two days.

"There will be no bandh and everything will remain open in West Bengal.
"We will ensure that life remains normal as on any other day and work does not suffer," Banerjee said at a foundation-laying ceremony for development projects here in South 24 Parganas district.

The chief minister said action would be taken in case of any attempt to damage shops and establishments by bandh supporters.

Banerjee said her government would pay compensation in case of any damage due to the strike.

"I will act as your security guard and my government will take care of those in case of any damage due to the strike," she said.

"I have accepted my life as a challenge and I am a military type of person. I do what I promise to do and I am a person who does not succumb to any pressure or threat," the Trinamool Congress leader said.

The Chief Minister urged teachers to attend schools and colleges on the days of strike and shopkeepers to keep their shops open.

"Strikes may benefit political ambitions, but not the people and our party sincerely believes it.

"We have not resorted to shutdown for the last four years knowing that it causes harm to the state and the people," she said, adding that some parties, other than her TMC were still calling bandhs.

Singling out the Communist Party of India (Marxist) as the key sponsor of any shutdown, she said, "We are committed to the people of West Bengal and not for Korea and Cuba."

She said that Union Home Minster Sushilkumar Shinde would be coming to inspect security in coastal areas of the district during the period.

Rubbishing allegations by opposition parties that she was content with laying foundation stones, Banerjee retorted "I do it after proper planning and considering the financial implications.

"Many people say many things against me. I don't give any credence to it," she said.

Making her oft-repeated complaints against the Centre, Banerjee said, "The central government takes away Rs 26,000 crore (Rs 260 billion) as tax from the state which earns Rs 21,000 crore (Rs 210 billion) as revenue each year. "Despite such financial stringency, the state government has been going ahead with development projects with great difficulty," she said.

Banerjee alleged that despite efforts being made by Congress and the BJP, the CPI-M would never be able to return to power in the state.

She alleged that the CPI-M and some television channels were taking up non-issues to tarnish the image of her government. "It will not succeed as I enjoy the support of the people."
Image: Mamata Banerjee