The railways could not start various projects in West Bengal announced by former Railway Minister Mamata Banerjee as she had not arranged funds for them, Minister of State for Railways Adhir Chowdhury said.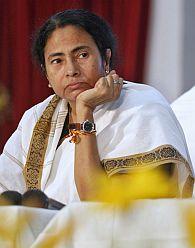 "Former Railway Minister and present Chief Minister Mamata Banerjee had announced a large number of projects in the state. But there was no arrangement for funds to implement them. We cannot start projects due to dearth of funds," Chowdhury said during his visit here in South 24 Parganas district to inspect an under-construction bridge.

In Sundarbans area, a number of projects valued at Rs 2,301 crore (Rs 23.01 billion) were announced but no land was acquired, he said, adding the railways could not work if the state government did not co-operate.

Citing
another problem "created by Banerjee", the minister said she had announced that jobs would be given to land losers.
"If we follow this, we have to give 1.7 lakh jobs in Eastern Railway alone. We do not have so many vacant posts. Besides, this is not the policy of the government," he said.
"Work for 37 projects worth Rs 13,000 crore (Rs 130 billion) were on in West Bengal. But I cannot guarantee their completion as we do not have funds," Chowdhury, a Congress leader, said.
The minister came here to inspect an under-construction bridge over the river Matla which is a part of a six km railway line between Canning and Bhangankhali.