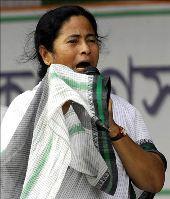 The West Bengal government on Thursday launched a scheme under which a monthly dole of Rs 1,500 will be provided to the unemployed youth in the state.

Inaugurating the 'Yuvashree' scheme, Chief Minister Mamata Banerjee said 100,000 youths enrolled in employment exchanges would receive the amount every month in the first phase, while maintaining that it was not an unemployment allowance but 'assistance' for them to meet their expenses.

"There are about one crore unemployed persons in West Bengal which has a total population of eight crore. I had no idea that the state has such huge number of unemployed," she said at the Netaji Indoor Stadium.

"Some are questioning why unemployed allowance is being given. It is not an unemployed allowance.

"It is some assistance to them to meet expenses," she said.

"Many are not happy at the announcement of these welfare schemes and pulling a long face on how the funds will be sourced," she said.

She pointed out that the salaries of the state government employees were being paid as also teachers on the first day of each month.

Finance minister Amit Mitra had announced the Yuva Utsaha Prokolpo (Youth Encouragement Scheme) while tabling the 2013-14 budget.

He had said 100,000 unemployed people aged between 18 and 45 years would get the assistance.
Image: Mamata Banerjee