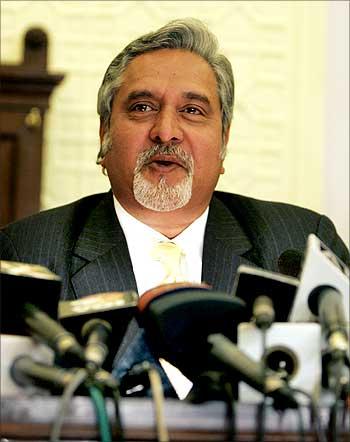 UB Group Chairman Vijay Mallya's grip on United Breweries slipped further on Thursday, after lenders to UB Group companies offloaded a part of the stake in Kingfisher beer that was pledged to them.

The stake offloaded, a little less than a per cent, was acquired by Dutch brewer Heineken for about Rs 18 crore (Rs 180 million).
With this, Heineken's stake in Kingfisher rose to about 40 per cent.
Mallya's stake in United Breweries is now 31.9 per cent. According to information available, he might lose three per cent more, as a lender controlling 6.3 million pledged shares is seeking to recover dues.
Late last year, Heineken became the single-largest shareholder in United Breweries, buying 1.35 per cent stake from Citigroup for Rs 275 crore. For the preceding five years, Mallya and Heineken had equal holdings — 37.4 per cent — in United Breweries. The Heineken management has maintained it would try to mop up further stake in United Breweries.
According to regulatory disclosures, McDowell Holdings, a group company of Vijay Mallya, holds 4.05 per cent in United Breweries, of which 94 per cent has been pledged. Lenders to UB Group offloaded 250,000 shares in the open market, which were picked up by Heineken.
Earlier, McDowell Holdings had disclosed it provided corporate guarantees and pledged 6.3 million shares to a lender to secure debt; the dues stood at Rs 496 crore.

"Three such borrowers have committed acts of defaults and the lender has demanded repayment of a sum of Rs 337.5 crore from them. Simultaneously, it has invoked corporate guarantees and exercised its right of pledge provided by the company to realise the dues," McDowell Holdings said. The company was negotiating with the lender to restore the facility made available to the defaulting borrowers, it said, adding no action had been taken against it.
UB Group executives told Business Standard it would be an uphill task to stop lenders from further encashing pledged shares. United Breweries, with market capitalisation of about Rs 19,500 crore, is Mallya's last bastion and lenders have been eyeing Mallya's stake, worth about Rs 5,500 crore, for a while.
As an additional three per cent stake will come under pressure from lenders, Mallya will have to ring-fence the remaining 23 per cent pledged by him. He is in talks to offload more of his stake to Heineken at a premium, though the talks have been inconclusive.
UB Group, which raised debt from a consortium of lenders for Kingfisher Airlines, faces the prospect of its corporate guarantees being encashed and pledged shares of group companies being sold. Lenders have sold Rs 2,000 crore worth of pledged shares of United Spirits, another UB Group company, now controlled by global spirits major Diageo. Mallya now holds a little over four per cent in United Spirits.
On Thursday, the United Breweries stock closed at Rs 736.25 on the National Stock Exchange, up 0.05 per cent.
LOSING CONTROL
Mallya's stake in United Breweries fell to 31.9% after lenders offloaded 250,000 shares in UBL and Heineken mops it up
Heineken which holds 38.76% in UBL will shore up its holding to 39.6%
Of the 31.9% stake Mallya holds, as much as 25% is pledged
UB Group's United Spirits, which is now controlled by Diageo, holds another 3.2% which also is likely to be sold to Heineken