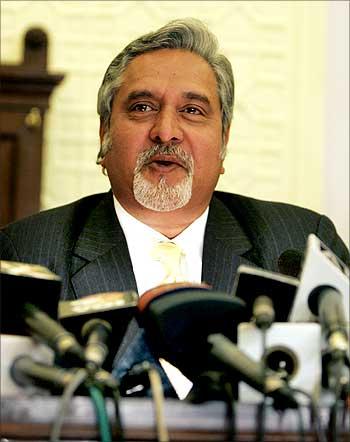 Vijay Mallya, the embattled chairman of the UB Group, is not likely to be immediately named a wilful defaulter by the United Bank of India.
According to people in the know, the management of the grounded Kingfisher Airlines has sought more time from the creditor bank to reply to the wilful default notice.
If a company is put on a bank's wilful defaulter list, it becomes difficult for the entire group to borrow from the banking sector. Mallya is chairman of the UB Group's two profitable companies, United Breweries and United Spirits, though controlled by global majors, Heineken and Diageo, respectively.
Kingfisher Airlines, which was grounded on October 2012, owes around Rs 6,000 crore to a consortium of lenders led by State Bank of India, including nearly Rs 400 crore to the United Bank of India. After the bank issued its wilful default notice, other members of the consortium indicated that they might follow suit.
According to the Reserve Bank of India's guidelines, banks can categorise a defaulter as wilful if a borrower has not paid back a loan when it has the capacity to pay or if the borrowed money has not been used for the purpose it was taken.
The lenders' consortium has classified their loans to Kingfisher Airlines as non-performing, though these were restructured in 2011 and a part of the debt was converted into equity.
A large part of the loan was unsecured, so most lenders have to make provisions for their entire exposure. SBI has the highest, at Rs 1,600 crore.
The lenders' consortium has been recovering part of their dues from the airline by liquidating the promoter's personal guarantee, which includes financial and physical assets as well as pledged shares.
DEBT-RIDDEN
Kingfisher Airlines owes around Rs 6,000 crore to a consortium of lenders led by State Bank of India, including nearly Rs 400 crore to the United Bank of India
The lenders' consortium has classified their loans to KFA as non-performing, though these were restructured in 2011 and a part of the debt was converted into equity