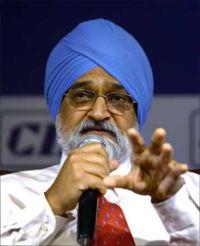 Major economic policy reforms in India that require legislative changes is most likely to slip away until the next general elections, Deputy Chairman of the Planning Commission Montek Singh Ahluwalia said on Thursday.
He, however, assured businesses and investors and that current slowness in growth is only a temporary phenomenon and India would soon bounce back to eight per cent growth.
"I would assure that there is no item on the reform agenda which the government of India had earlier said is on its agenda is now off. My expectation is that we are a little bit marking time.
Wherever there is a legislative changes needed (for economic reform) it will slip a little over the next elections," Ahluwalia said in his address to the 38th Annual Leadership of the US India Business Council in Washington, DC.
Addressing top American CEOs during the inaugural session of the USIBC annual gala, the Planning Commission urged the attendees including government officials and former US ambassador to India "not to be too depressed" over the slowness of growth, or the volatility of the Indian currency.
"These are short term management problem. The medium term and long term growth prospects is very good," he said, adding the government commitment to economic reform remains the same.
It is only that "the policy reform would slip away due to the elections," he pointed out.
Observing that the Indian government of late has taken a series of executive actions in implementing some of these reforms or removing the hurdles, Ahluwalia said that these are indications of India's commitment to reforms and thus should be assuring for US investors and businesses.
"You can't call these reforms," Ahluwalia said referring to the series of executives decisions being taken by New Delhi including putting on hold those related to preferential market access.
In an election year, he argued, it is better to take these executive decisions, rather than spending time and energy on legislative changes.
Acknowledging the concerns of the American businesses, lawmakers and academicians, Ahluwalia said India is very clear that there is a big agenda of reform ahead of it.
"Our approach to the reform has been gradualist because in a democratic environment it can be done as fast as we think. As long as the economy was growing at nine percent there was not much of a concern," Ahluwalia said, adding people started expressing concerns only after the slowness of reforms.
"In the long run India has the growth capacity that would reach the eight percent," he said, adding in India people have sensed the possibility of high growth.
"At the moment we are going through a slowdown, this should not be seen as a long term phenomenon, nor it should be seen as an acceptance of slow growth. I think the system would put pressure, and we would be back to it (higher growth)" Ahluwalia said.
Image: Montek Singh Ahluwalia
Photograph: Reuters