Maharashtra plans to kick-start a seaplane service next month with an initial focus on establishing connections using the inland water bodies, a top official from the state's tourism promotion body said.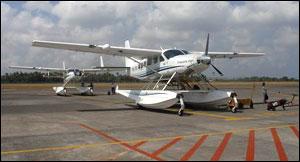 "We are hopeful of launching the (sea plane) service by April," Maharashtra Tourism Development Corporation's managing director Jagdish Patil told PTI in Mumbai.
He said the proposal is now awaiting a go-ahead in the form of a no objection certificate from the state irrigation department.
"It is better to have such services inland rather than on the sea as the waters are very tranquil in dams," Patil said.
When asked about the locations, Patil said efforts are on to connect Rahuri in Ahmednagar district, which will serve pilgrims going to nearby Shirdi, Koyna dam (which will help tourists going to Mahabaleshwar) and Pune.
Earlier, the authorities had said that the service will be launched before the end of the fiscal itself, but the plan seems to be delayed.
"We will launch it by April, before the monsoons," Patil stressed, when asked about the delay.
Earlier reports had said that Maritime Energy Heli Air, which operates similar services in Kerala and the Andaman and Nicobar Islands, has been chosen to commence operations in Maharashtra as well.
The company had said that it has got the go-ahead from Maharashtra's coastal zone management authority to begin seaplane services from the financial capital.