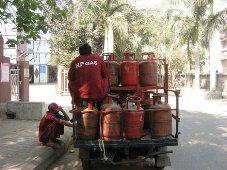 The government's decision to cap the number of subsidised LPG (liquefied natural gas) cylinders seems to have brought cheer to oil companies as their auto gas segment has registered significant growth since last September.

IndianOil Corp Ltd, for instance, saw a growth of around 22 per cent in volumes and nearly two per cent in its market share. It traded nearly 10,517 million tonnes (mt) of auto gas in December against 8,593 mt of auto gas in September.

Bharat Petroleum Corp Ltd (BPCL) and Hindustan Petroleum Corp Ltd saw a nearly 13 per cent jump each in volumes, while losing market share by one per cent.

BPCL traded 4,490 mt of auto LPG in December against 3,986 mt in September, while HPCL traded 4,788 mt in December against 4,239 mt in September.

"The cap on subsidised LPG cylinders pushed the demand of auto gas. This, however, is despite the increase in auto LPG prices," said N Srikumar, executive director, corporate communication and branding at IndianOil.

The government had limited the number of subsidised LPG cylinders per household to six last September and revised it to nine earlier this month.

Between September and December, auto gas prices went up nearly 17 per cent from Rs 41.08 to Rs 47.92
per litre in Delhi. In Mumbai, the same has registered an almost 16 per cent growth, from Rs 45.08 to Rs 52.28 per litre.
Oil companies say the upswing in auto LPG growth augurs well for both the consumers and oil companies.
While IndianOil, with its nearly 52 per cent market share in the auto gas segment, has a network of 350 outlets, BPCL has 91 outlets and HPCL has 217.
These companies however, have, over the last one year, not increased their atuo LPG outlets.
Network expansion, however, say these companies, is a major concern for them, given the space constraint at the regular fuel retail outlets and stringent explosive regulation norms that need to be adhered to.
"Stand-alone auto LPG facilities, too, will be difficult to justify return on investments, given the huge investments required in both land and auto LPG infrastructure costs," said Srikumar.
Capping of LPG cylinders has also controlled diversion of LPG cylinders for non-cooking use such as automobile and commercial use.
While earlier demand for domestic LPG clocked double digit growth, today the number is down to single digit and even negative numbers in some markets.
According to the Petroleum Planning and Analysis Cell of the petroleum ministry, LPG consumption grew at 9.1 per cent in 2010-11.