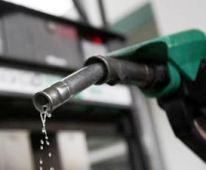 Losses on diesel sales have hit a record Rs 14.50 a litre, sending the government scrambling for ways to cover the mounting subsidy bill.

Indian Oil Corporation, Hindustan Petroleum Corporation and Bharat Petroleum Corporation are losing Rs 486 crore (Rs 4.86 billion) per day as they are made to sell diesel, domestic LPG and kerosene way below cost to keep inflation under check.

Losses on diesel sale have widened to Rs 14.50 per litre this week from Rs 12.12 loss in the first fortnight of September mainly due to depreciation in rupee, an official statement said in New Delhi.

Besides diesel, oil firms are losing Rs 36.83 per litre on kerosene sold through ration shops and Rs 470.38 per 14.2-kg cooking gas cylinder, it said.

Diesel losses had last touched about Rs 14 per litre in January, 2012.

At current rate, the three oil PSUs are projected to lose Rs 156,000 crore (Rs 1,560 billion) in revenues in the financial year ending March 31, according to Indian Oil Corporation, the nation's largest oil firm.

This compares to Rs 161,029-crore (Rs 1,610.29 billion) loss in 2012-13, more than half of which was made good by the government by way of cash subsidy.

Oil Secretary Vivek Rae had last week gave an indication of the government taking a decision on raising prices in next
few weeks.
"Some burden has to be borne by consuming population.
That is the challenge government faces.
"It is a political challenge, it is an economic challenge. It is a challenge we cannot run away from," he had said.
Sources said the options before the government was to either double the monthly 50 paisa a litre hike in diesel rates permitted in January, or to go for a one-time Rs 3-5 per litre hike in rates.
Oil Minister M Veerappa Moily had on August 30 written to Prime Minister Manmohan Singh saying that without a price increase, the government will have to shell out a record Rs 97,500 crore (Rs 975 billion) to subsidise diesel and cooking fuel.
A one rupee increase in diesel price will cut loss by Rs 4,522 crore (Rs 45.22 billion) in remainder of current fiscal while a Rs 3 per litre increase would trim losses by Rs 13,565 crore. If rates are raised by a one-time Rs 5 per litre, the losses would be cut to Rs 29,390 crore (Rs 293.9 billion).
Similarly, a Rs 50 per cylinder increase in LPG rates would trim cooking gas losses by Rs 2,604 crore (Rs 26.04 billion).
Besides, a possible Rs 2 per litre hike in kerosene price would cut losses by Rs 1,014 crore (Rs 10.14 billion).
The three price increases together would bring down government's subsidy outgo to Rs 50,928 crore (Rs 509.28 billion), sources said.
The timing of the decision is not yet been finalised.