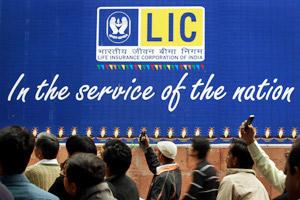 Country's largest insurer Life Insurance Corporation plans to pump in about Rs 50,000 crore (Rs 500 billion) in the equity market, taking its total investment including in bonds to Rs 3 lakh crore (Rs 3 trillion) during the current fiscal.
"We plan to invest about Rs 50,000 crore in the equity market, while Rs 2.50 lakh crore (Rs 2.50 trillion) in bonds," LIC Chairman S K Roy told PTI.
He said LIC picked up stocks worth Rs 51,000 crore last fiscal and investments were made across sectors. As for the bond market, he said investment in this area was Rs 2.40 lakh crore (Rs 2.4 trillion) in the last financial year.
Equity markets have rallied about 20 per cent so far this fiscal. During the current fiscal, life insurer has raised its stakes in many public sector banks including United Bank of India, Central Bank of India and Bank of Maharashtra by picking up preferential shares.
Some more banks would make preferential allotment to LIC during course of the year. Besides, the government has also announced disinvestment roadmap for the current fiscal.
The process for disinvestment in ONGC and NHPC, among others, has already been started. Also, the government is looking to sell 5 per cent stake in SAIL and 10 per cent each in RINL and HAL in the current fiscal besides an outright sale of Tyre Corporation of India.
The disinvestment of 10 per cent through an initial public offer (IPO) in Rashtriya Ispat Nigam Ltd is tentatively scheduled for completion in the current financial year.
LIC has been a key investor in the disinvestment initiative of the government. In the Budget, the government has estimated to collect Rs 43,425 crore from selling stake in PSUs and another Rs 15,000 crore (Rs 150 billion) from sale of residual stake in the erstwhile government companies.
During the first quarter ended June, 2014-15 fiscal, LIC earned a total premium of Rs 14,016 crore (Rs 140.16 billion), lower than Rs 14,295 crore (Rs 142.95 billion) in the year-ago period. Life insurance sector with 24 players earned a total premium of Rs 19,699 crore (Rs 196.99) in the April-June period of 2014-15.
LIC with 75 per cent market share collected Rs 41,441 crore (Rs 414.41 billion) from individual premiums and Rs 48,682 crore (Rs 486.82 billion) of group premiums, aggregating to Rs 90,124 crore (Rs 901.24 billion).