Life insurance major LIC and the Employee Provident Fund Organisation (EPFO) have agreed to fully subscribe to the Rs 7,400 crore (Rs 74 billion) bond sale of national carrier Air India, a top SBI Caps official said on Wednesday.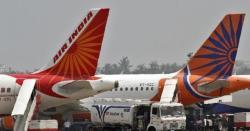 "Life Insurance Corporation and the EPFO have agreed to purchase the entire Rs 7,400 crore non-convertible debentures (NCDs) being sold by Air India. However, the bond sale programme will continue to remain open till December 18," a senior official of SBI Caps, which is the sole arranger to the issue, told PTI, on condition of anonymity.

The 19-year-old issue has a coupon of 9.08 per cent and will fetch 9.27 per cent for LIC and the EPFO on maturity, he added.

According to an Air India official, LIC has subscribed to bonds worth Rs 3,000 crore (Rs 30 billion) and the remaining by EPFO.

When contacted, Air India Finance Director S Venkat refused to talk, saying only the spokesperson could comment.

Calls to the Air India spokesperson did
not elicit any response.
The NCD issue is part of the revival plan of the debt-laden national carrier, which was given a Rs 30,000-crore (Rs 300 billion) bailout by the government in April.
Accordingly, Air India will have to use the NCD proceeds to retire a good part of short-term working capital loans taken from 19 different banks.
The bailout package also included an upfront equity infusion of Rs 6,750 crore (Rs 67.50 billion) and an assured equity support of Rs 23,481 crore (Rs 234.81 billion) until 2020-21.
As of last December, Air India had a debt of Rs 43,777 crore (Rs 437.77 billion) on its books and an accumulated loss of Rs 27,000 crore (Rs 270 billion) from the past five years.
The debt includes those taken for purchasing 27 Boeing Dreamliners, of which only three have been delivered so far, and nearly 60 other planes from Airbus.
The issue has a AAA rating from India Ratings, the domestic services of Fitch, reflecting the unconditional guarantee extended by the government to make timely repayment of principal and interest on the bonds.