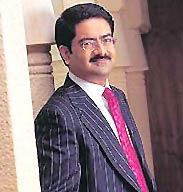 Kesoram Industries, a Basant Kumar Birla Group company, announced last week the firm's businesses would soon be restructured.

The company had appointed a three-member committee of directors to implement the changes.

Following the development, the firm's stock jumped 25 per cent on speculation that its tyre business would be sold off and its cement business merged with Aditya Birla Group's UltraTech.

While Kesoram officials did not comment on the issue, Aditya Birla Group officials said there were no plans to take over the cement business of Kesoram.

One reason why Kesoram's stock price gained was that the company's restructuring plans came within weeks of Kumar Mangalam Birla -- Aditya Birla Group chairman and grandson of 93-year-old Basant Kumar Birla -- increasing his stake by 17 per cent in Century Textiles, another B K Birla Group company.

As a result, the stock markets started speculating a similar move by Kumar Mangalam Birla in Kesoram.

The fact that stock broker Rakesh Jhunjhunwala accumulated a 10 per cent stake in Kesoram further increased the stock price.

Statistics with stock markets show Pilani Investment owns a significant 26 per cent stake in Kesoram apart from other holding firms of Kumar Mangalam Birla.

Aditya Marketing & Manufacturing, a holding firm belonging to Kumar Mangalam, in turn, owns a 35 per cent stake in Pilani Investment, thus giving a clear edge to Kumar Mangalam Birla in ownership of Kesoram.

In February 2013, B K Birla's daughter Manjushree Khaitan had been elevated as vice-chairperson and executive director of Kesoram Industries, a move that signalled that she would be the key person taking the day-to-day calls regarding the company.

Earlier, Khaitan was a non-executive director.

While Kumar Mangalam is on the board of Century Textiles, he stayed away from Kesoram's decision-making process.

According to sources in Kesoram, it was very clear that Khaitan would run the company, even though at one point in time B K Birla had wanted to hand over the company's management to Kumar as well.

Manjushree and her daughter Vidula Jalan and B K Birla's second daughter Jayashree Mohta have small personal holdings in Kesoram, according to the data submitted to the stock exchanges.

B K Birla's son Aditya Birla expired in 1995, which led to a young Kumar Mangalam Birla taking over the reins of the Aditya Birla Group at a very young age.

Since then, the Aditya Group has grown to a multi-national $40-billion conglomerate.

Although Pilani has the maximum holding at 24.91 per cent in Kesoram, company sources pointed out that most of the shares in Pilani belonging to B K Birla-Kumar Mangalam combine were jointly held though joint venture companies.

However, who will bag B K Birla's shares in these joint venture companies is not yet known, say insiders.

Although B K Birla had said once that those in charge of the companies would inherit them, the statistics submitted to the exchange show Kumar Mangalam Birla is consolidating his grip over B K Birla firms.

Mohta is already in charge of Jay Shree Tea & Industries. Jalan, along with her husband, is running two the other two group firms -- Mangalam Cement and Mangalam Timber.
Image: Kumar Mangalam Birla
Please click here for the Complete Coverage of Budget 2014 -15