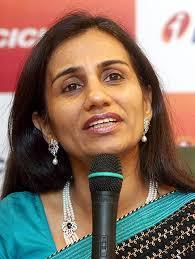 Increasing women's participation in the economy to about 50 per cent can add a few percentage points to country's gross domestic product growth, ICICI Bank managing director and chief executive officer Chanda Kochhar said on Thursday.

"In India just about 30-35 per cent of the women participate in economic activity.

But if we make it to 50 per cent we could add to a few percentage points to our GDP growth. I think it is a socio economic phenomenon that is good for the economy," Kochhar said while addressing a seminar organised by Young FICCI Ladies Organisation.

That is how we should look at the concept of gender diversity because it leads to better decision making, she said.

"When you have diversity then decision making is more comprehensive and meaningful because you look at things from different points of view. Diversity helps in better decision making," she added.

Kochhar said participation of women is important not just for them but for the entire socio economic growth of the global world.

"When you look at India, 50 per cent of the population in India are women. So you are actually talking about 50 per cent of the potential talent base. It is not just a source of talent, it is about diversity also," Kochhar said further.

She said it is even more important in the changing dynamic world where the business environment also keeps on changing all the time.
Image: Chanda Kochhar