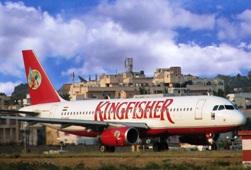 Shares of Kingfisher Airlines on Wednesday surged as much as five per cent to hit the upper circuit limit in afternoon trade on the bourses after the cash-strapped carrier started paying salaries to some of its employees.

According to sources, Kingfisher Airlines has started disbursing salaries to some of its employees apart from approaching the aviation regulator seeking licence renewal.

Reacting to the development, shares of the company opened on a bullish note and then gained further ground and touched an intra-day high of Rs 11.05 apiece on the BSE, higher by five per
cent from their previous closing price.
Similar movement was witnessed on the National Stock Exchange, where the stock gained 4.76 per cent and hit the upper circuit limit for the day at Rs 11.
On Tuesday, Kingfisher Airlines was locked at upper circuit limit of Rs 10.53 after its group holding firm United Breweries (Holdings) hiked its loan limit for the ailing carrier to Rs 750 crore (Rs 7.5 billion) from Rs 300 crore (Rs 3 billion).
The sources also said airline's Chief Executive Sanjay Agarwal is in the capital to meet the Directorate General of Civil Aviation to make a fresh request to resume operations.
However, both the developments could not be officially confirmed.