At least 30 flights of Kingfisher Airlines were cancelled this morning as the top brass of the cash-strapped carrier was set to appear before aviation regulator DGCA to explain reasons for large-scale disruptions in schedules.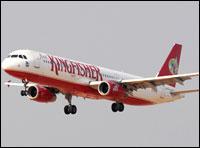 While 13 flights were cancelled from Mumbai, 8 were cancelled from Kolkata and four from Delhi leaving many passengers stranded. The major air route of Mumbai-Delhi was the worst-hit with maximum cancellations and clubbing of flights.
Kingfisher CEO Sanjay Aggarwal and other officials are set to met DGCA chief E K Bharat Bhushan on Tuesday and give a revival plan of their disrupted flight schedule.
The carrier faced fresh problems yesterday with 34 pilots quitting and a large number of staff being put on notice.
The resignation of the pilots have taken the total number of those who have quit to about 80 since last October, industry sources said.
Kingfisher has been suffering from a severe cash crunch that has culminated into the Income Tax authorities freezing its bank accounts last week on grounds of non-payment of tax dues.
Civil Aviation Minister Ajit Singh had on Monday ruled out any bailout of the airline.
"As far as Kingfisher or any other private airline is concerned, they have to present their business plan to the banks and if they (banks) are satisfied with that, and if it is within RBI guidelines, then they will lend money," he had said.
The carrier on Monday cancelled 30 flights including those to Bangkok, Singapore, Kathmandu and Dhaka, leaving hundreds of passengers stranded at various airports across the country.
Concerned over the sudden cancellations and passenger inconvenience, aviation regulator DGCA had summoned the airline's CEO and top officials to appear before them on Tuesday to explain the large-scale disruptions in the operations and the reasons.