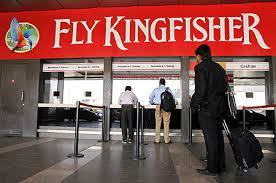 Grounded carrier Kingfisher Airlines On Wednesday reported a net loss of Rs 822.42 crore (Rs 8.22 billion) for the third quarter ended December 31, 2013.

The airline which has not flown for more than a year, had reported a loss of Rs 755.17 crore (Rs 7.55 billion) a year earlier, Kingfisher said in a filing to the BSE.

With planes remaining on the ground, the airline had nil sales in the reporting quarter, similar to zero sales a year ago.

The finance costs of Kingfisher for the reporting quarter stood at Rs 350.99 crore (Rs 3.55 billion), against Rs 401.26 crore (Rs 4.01 billion) in the corresponding
quarter of the previous year.
The redelivery cost rose 45.83 per cent to Rs 400.73 crore (Rs 4 billion), against Rs 274.80 crore (Rs 2.74 billion) for the comparable quarter a year ago.
The airline, headed by liquor-baron Vijay Mallya, has not flown since October 2012, after employees went on strike demanding salaries.
Kingfisher had never reported a profit since starting operations in 2005.
Besides non-payment of salaries, the private carrier is saddled with huge debt and losses.
The airline has a debt of over Rs 7,200 crore (Rs 72 billion) towards lenders, mainly public sector banks since January 2011.
Shares of the company were trading at Rs 3, up 0.67 per cent from its previous close on the BSE.