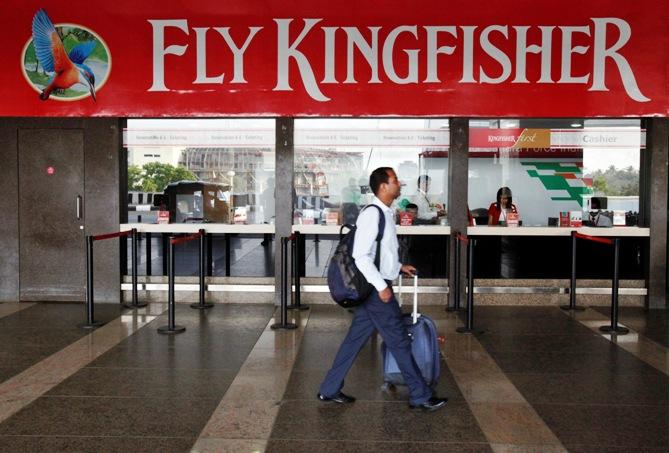 Lenders to the UB Group-owned Kingfisher Airlines have stepped up their efforts to get back their Rs 6,000 crore (Rs 60 billion) loan to the now-grounded airline.

IDBI Trusteeship Services, in its capacity as the lenders' trustee to Kingfisher Airlines, has invoked a little over 4.93 million shares of United Spirits (USL) that were pledged with the lenders as collateral by UB Group promoter Vijay Mallya's companies UB Holdings and Kingfisher Finvest.
Taking the average price of Rs 2,700 a share, the value of the invoked shares of USL would be about Rs 1,333 crore (Rs 13.33 billion).
Mallya, along with his companies, has a 9.84 per cent stake in USL as of end-March 2014, which is expected to come down to 6.43 per cent after the invocation.
According to an agreement between the UB Group and global spirits major Diageo, which holds a 29 per cent in USL, Mallya will continue to be the chairman of USL as long as he holds one per cent in the company.

The lenders' move to invoke shares comes at a time when Diageo is hoping to pick up an additional 26 per cent in USL through an open offer at Rs 3,030 a share, which will end on June 19.
According to analysts, a host of institutional holders will tender in their holding in USL at the open offer price. However, it is not clear if the lenders, following their invocation, will tender in their shares.
Diageo had earlier said they would accept USL shares as part of their open offer if there is a clear title to it, without any legal encumbrances.
While lenders may look to encash on the open offer, it remains to be seen if they will be able to overcome the legal hurdles that the UB Group has raised saying the invocation should be treated as null and void.
Seeking to prevent the lenders from invoking the pledged shares, the UB Group has filed various law suits, stating that the lenders have acted with prejudice in the recovery process.

Over the past 18 months, the lenders have monetised various other assets of and reportedly recovered about Rs 1,000 crore (Rs 10 billion) from the UB Group.

The lenders are also mulling action against Mallya including tagging him as a wilful defaulter, which will have a cascading effect on UB Group companies.