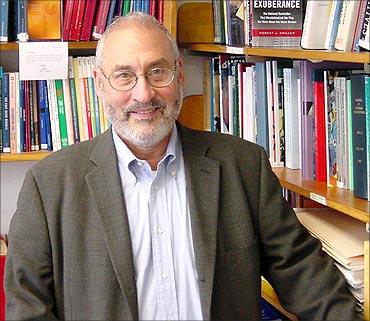 When it comes to criticising his country's policies on capital flows or world trade negotiations, US Nobel laureate Joseph Stiglitz minces no words.
As markets in the developing world keep looking at announcements relating to tapering of the quantitative easing by the Federal Reserve, Stiglitz says the US central bank's move is creating instability in global financial markets.
Delivering a keynote address at a seminar organised in New Delhi by the United Nations Economic and Social Commission for Asia and the Pacific, he said: "There is irrational exuberance going in and irrational pessimism going out," referring to the volatility in capital flows from the advanced world to developing nations.
He said a risk premium is calculated for each product and country but such a huge variation in this was inexplicable.
"One moment they decide the risk premium is very large; next moment, they decide it is too small." In other words, a country faces volatility for no faults of itself. "It is not a question of price discovery. It is a question of market irrationality," he said.
Stiglitz also accused the US of negotiating over issues already settled at the World Trade Organization (WTO). He have an example of Brazil taking the US to WTO over cotton subsidies.
The US lost but reworded the provisions and again went to the trade body. This time as well, the latter told the US the subsidies were WTO-illegal. Ultimately, "the US asked Brazil how much bribe it would take to stop bothering it". The result was that cotton subsidies prevailed, harming Indian and African farmers, he said.
Saying the fight was now between producers and consumers, unlike in the past when the tussle was between producers of one nation and the other, Stiglitz said the United States Trade Representative represented producers' interests.
"They don't even have a mandate to worry about consumers' interests. And, what are these producers' interests? Getting rid of consumer protection, getting rid of workers protection, getting rid of environment protection.
"Who suffers if they do that? The rest of our citizens. The only winner will be corporate interests," he added.
Stiglitz said globalisation was a mixed bag; bad things also go across borders. The example he gave was of 'toxic assets' of the US going to the rest of the world at the time of the sub-prime crisis. Free trade agreements, he said, strip the ability to manage cross-border capital flows.
On the euro crisis, Stiglitz said the fundamental problem was the idea of the euro itself. "Unfortunately for Europe, there is no light at the end of the tunnel."
And, he had praise for the Brics countries' initiative to set up a development bank. "This is one good initiative from emerging markets," he said.