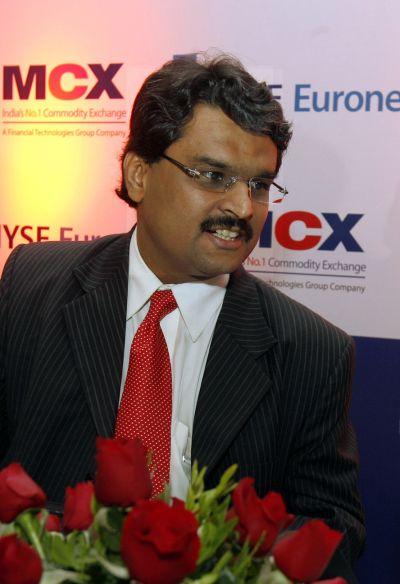 Two days after Mumbai Police attached his properties, Jignesh Shah, director of the beleaguered National Spot Exchange Ltd, on Thursday told investigators that he was making "relentless" efforts to recover money from defaulters.
"Shah showed up before me to brief about the efforts being made by him to recover the money from the defaulters. We did not summon him and he himself turned up before us today," said Rajvardhan Sinha, Additional Police Commissioner with
Economic Offences Wing of Mumbai police. Later, Shah told reporters: "Law will take its own course and I am committed to recovering (of money)." He refused to comment on the attachment of his assets by the police.
Police sources said that Shah claimed that the crisis-hit spot exchange had also been "relentlessly" doing its best to get back the money it lent to borrowers-turned-defaulters.
Police on Tuesday attached properties of directors Shah, Joseph Massey (who is also a Director at the now defunct Spot Exchange), NSEL non-Executive Chairman Shankarlal Guru, and former MD of MCX Shreekant Javalgekar.
Shah's bungalow in suburban Juhu, a plot in Pune, a row-house in Aarey Colony in Mumbai, 1.19 lakh shares of Financial Technologies (India) Ltd worth Rs 178.5 crore owned by him, Rs 51 lakh worth shares of another company, fixed deposits of Rs 11 crore and five demat accounts were attached.
So far, police have attached 206 properties (of the accused and the defaulters), valued at a total of Rs 2,985.90 crore.
The Economic Offences Wing of Mumbai Police has invoked Maharashtra Protection of Interest of Depositors Act, which empowers police to attach immovable assets of the accused.
The FIR lodged in September against Shah, Massey and others charges them with cheating, forgery, breach of trust and criminal conspiracy, among other offences.
The spot commodity bourse, promoted by Shah-led Financial Technologies (FTIL), has been facing problems in settling Rs 5,600 crore dues of 148 member brokers, representing 13,000 investor clients.