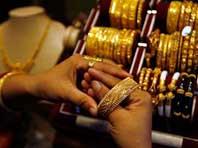 An increasing number of bulk jewellers are taking gold on lease rather than purchasing, due to the high cost owing to the rupee's sharp fall and lower demand.

Gold demand in India is likely to decline by 40 per cent in the first quarter of the current financial year, due to the lack of fresh purchases by bulk and retail consumers.

According to Rajan Venkatesh, managing director (India Bullion) of ScotiaMocatta (a unit of Bank of Nova Scotia), "Many customers, including Tanishq, Gitanjali, Tribhovandas Bhimji Zaveri (TBS) and Shrikant Zaveri have either increased the extent of gold loan or started availing of this facility to reduce the cost of production."

ScotiaMocatta allows jewellers to borrow gold at an interest rate of 3.5 to four per cent, substantially lower than the rate applicable for corporate loans. Banks provide loans at 12-13 per cent.

For taking a bank loan, jewellers have to provide inventory, fixed deposits or a bank guarantee as collateral. ScotiaMocatta's lending of gold at 3.5-4 per cent against such collateral makes gold loans much cheaper. Most of the time, such gold loans are paid back in cash.

Tanishq's V Govind Raj, general manager (marketing), sees no significant change in borrowing dynamics. Termed 'gold on lease', borrowers have been availing gold loans for quite some time, he said.

The proportion has been increasing, as prices in Indian terms are higher and demand is falling.

"We have been using this avenue for the last couple of years.

"But, we have now moved to use the entire value of gold as a gold loan. We now use it for our entire diamond requirement, rather than outright purchase," said Mehul Choksi, managing director of Gitanjali Gems [ Get Quote ].

Retail gold buyers have deferred their purchases with prices around record highs.

Traders have temporarily suspended new orders or reduced the quantity of purchases at least by half.

Customers are waiting to buy, expecting the Reserve Bank of India [ Get Quote ] to take some measures to restrict the rupee from further fall.

This is reflected in demand. Rajan Venkatesh said demand for the yellow metal plunged 40 per cent in May and the same trend has continued this month. In April, gold demand fell 50 per cent.

Hence, overall gold demand is estimated to have declined by 40 per cent in the quarter ended June 30.

By this estimate, import of gold, 267 tonnes in the April-June quarter last year, could fall to 150-160 tonnes.

Baccharaj Bamalwa, chairman of the All India Gems and Jewellery Trade Federation, said overall demand for gold had declined by 30-50 per cent in the past one month, due to lack of active buying by bulk consumers.