Tail Winds, a promoter entity of Jet Airways, on Monday offloaded 7.89 per cent stake for over Rs 211 crore (Rs 2.11 billion) in the open market, as Naresh Goyal-led Indian carrier gears up to complete the 24 per cent stake sale to Etihad.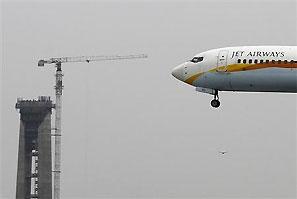 According to information available with the bourses, Tail Winds sold a total of 68,15,843 shares -- amounting to 7.89 per cent stake -- at an average price of Rs 310.15 apiece, pegging the transaction value at Rs 211.41 crore.
Tail Winds used to hold majority of promoter shares till some months ago. Under the proposed deal with Etihad, Goyal would eventually have a 51 per cent stake in the company, while 24 per cent stake would be held by Etihad and the remaining 25 per cent will be with public shareholders.
At the end of September quarter, Tail Winds held 68,15,843 shares, equivalent to 7.89 per cent holding, of Jet Airways.
In another open market transaction today, Merrill Lynch Capital Markets Espana picked up 29 lakh shares (or 3.35 per cent stake) of Jet Airways for around Rs 90 crore. Besides, Deutsche Securities Mauritius purchased 12.60 lakh shares (or 1.39 per cent stake) of the carrier for Rs 39 crore. These two foreign entities bought these scrips at a price of Rs 310 per share.
Last week, fair trade regulator CCI had approved the proposed acquisition of 24 per cent stake in Jet by Etihad.
Etihad is acquiring this stake for Rs 2,058 crore (Rs 20.58 billion) in a deal that was announced in April this year, becoming the first-ever FDI (Foreign Direct Investment) in an Indian carrier by an overseas airline.
Among others, the deal has been already cleared by capital markets regulator Sebi, Foreign Investment Promotion Board (FIPB) and Cabinet Committee of Economic Affairs (CCEA).
Jet Airways shares today plunged by 4.39 per cent to settle at Rs 310.40 apiece on the BSE.