The US transportation regulator imposed civil penalties of $10,000 on Jet Airways after the Indian carrier agreed to settle a case related to its failure to provide accurate information on a tarmac delay.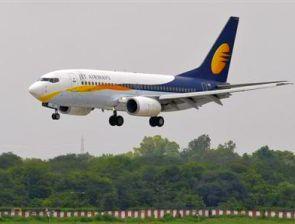 Jet Airways reached a consent settlement with the US Department of Transportation, according to an order issued by the regulator late last month.

The Indian carrier "has paid the fine as per the order", a Jet spokesperson said in a statement in New Delhi.

The incident occurred in 2011 when a dozen airlines were forced to divert due to bad weather to Bradley airport, which was not a regular diversion airport for Jet Airways.

The statement said Jet was "unable to disembark its (217) guests at Bradley Airport when the aircraft was on ground due to unforeseen circumstances and the aircraft returned to New York after refuelling and obtaining necessary clearance".

The Department of Transportation order issued on October 22 said, "In order to avoid litigation, Jet Airways has agreed to settle this matter with Enforcement Office and enter into this consent order directing Jet Airways to cease and desist from future similar violations."

Jet was directed to pay a "compromise civil penalty", with the US regulator saying it believed "this assessment is appropriate and serves public interest".

The issue related to Jet's failure to provide accurate information on the tarmac delay on October 29, 2011. Due to bad weather on that day, Jet Airways flight 9W 228, going from BrusselsAirport to NewarkLibertyInternationalAirport, was diverted to Bradley.

Since
Bradley was not a regular diversion airport for Jet, the carrier did not have a coordinated contingency plan with the airport.
Later an investigation found that after being diverted to Bradley, 217 passengers were delayed on the tarmac for five hours and 14 minutes but Jet Airways reported a tarmac delay of four hours and 40 minutes.
Later, Jet filed corrected data after the Air Travel Consumer Report (ATCR) had been published.
Under US regulations, certain foreign carriers are required to file a "Tarmac Delay Report" for each month in which there has been at least one tarmac delay of three hours or more. This data is made available to the public through the monthly ATCR.
The Department of Transportation's Enforcement Office opined that most of the circumstances that led to the tarmac delay in October 2011 were beyond the control of any single carrier.
"... because Jet Airways had not previously considered (Bradley) to be one of its regular diversion airports and had not used that airport for diversions in the past, the Enforcement Office is not pursuing enforcement action against the carrier for having failed to coordinate its tarmac delay contingency plan with (Bradley)," the order noted.
However, the Enforcement Office felt that enforcement action is warranted with regard to Jet's misreporting of information to the Department of Transportation.
The Jet spokesperson said that as stated in the order, the US regulator "decided not to pursue enforcement action against Jet Airways for its failure to adhere to the assurances in its contingency plan for lengthy tarmac delays due to most of the circumstances being beyond the control of any carrier".