CEO probable says the new role as president could not have come at a better time

B G Srinivas, one of the two recently-appointed presidents of Infosys, is aware of the high expectations the company has from him. He also knows his new role, widely seen as a stepping stone for the top position at India's second-largest information technology (IT) services company, has come with heaps of challenges.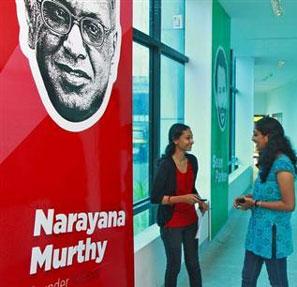 "It is a privilege to take up additional responsibilities; the task at hand needs a lot of work and planning, speed and execution," says Srinivas, quickly adding: "Obviously, we need to make sure our leadership talent and the rest of the employees work towards achieving the goal — one man can't achieve it alone."

In its new scheme of things, Infosys has created the roles of two 'presidents' and appointed Srinivas and U B Pravin Rao, virtually dividing every small and big business function between the two.
Executive Chairman Narayana Murthy has already said he will be happy to see one of the two as the chief executive officer after incumbent S D Shibulal retires in 2015. This means the performance of the duo is going to be scrutinised threadbare, to weigh one over the other for selecting the new CEO.

Srinivas does not seem perturbed. The new responsibilities could not have come at a more appropriate time, he says. "It is exciting because markets, definitely, have stabilised and things are looking up. So, these changes and additional responsibilities, from the timing perspective, are good," he adds.

With demand returning and fewer macroeconomic challenges, Srinivas says, the company's main focus will be increasing market impact, service line differentiation and cross-selling & up-selling services within clients' existing portfolios. In the process, the company will bring in new business models to target specific segments and markets.

"I don't see any big challenge; I see opportunities as I step in… I have handled most business verticals, such as manufacturing and banking, financial services and insurance (BFS)... I have also looked at the energy and communication services segments when I was handling enterprise and solutions and Europe as a geography," he says.

Srinivas, a mechanical engineer from Bangalore University, joined Infosys in 1999 after working for almost 14 years at Zurich-headquartered ABB, the power and automation major. Then, the company was still taking baby steps, with only 3,000 employees and annual revenues of around $120 million.

"There is much more business confidence today because, from the macro economic point of view, there is no reason to panic. Is it better today than six months ago? The answer is yes. Will it be better tomorrow? Nobody can guarantee. But, at least, there is visibility and some degree of stability," he adds.

The company expects most of its clients' budgets to remain nearly the same as last year and cost pressure is likely to be there. But Srinivas sees opportunity in this, too. "There are opportunities for Infosys to expand even when budgets are near-flat; we have done this in the past," he says.