The government has spent a little less than one-third of the Budget estimate of capital expenditure, it can still spend about Rs 20,000 crore this year without disturbing its fiscal deficit target.
Illustration: Uttam Ghosh/Rediff.com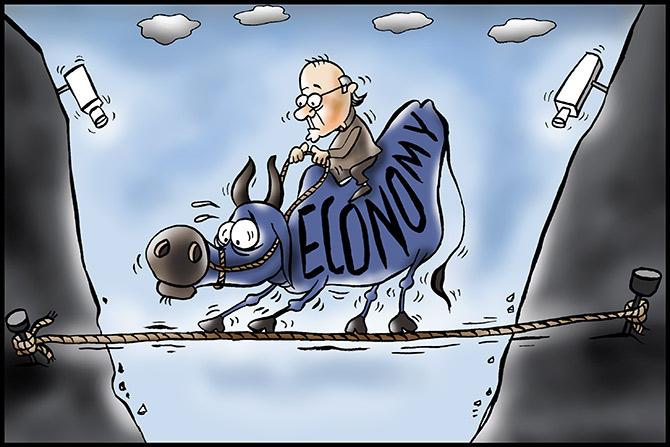 To revive economic growth after it crashed to its lowest level in Narendra Modi's tenure as prime minister, the Centre has just one recourse -- higher public spending.
However, there are likely to be limits to that as well, in the face of a 'tough' fiscal deficit target of 3.2 per cent of gross domestic product, officials say.
Analysts and experts believe, on the other hand, that just spending within means won't be enough and that the centre should boost public expenditure over fiscal discipline.
The fiscal deficit data available so far, for April-July, show that the difference between expenditure and revenue stands at Rs 5.05 lakh crore, about 92 per cent of the full-year Budgeted Estimate of Rs 5.46 lakh crore, on the back of massive frontloading of expenditure because the Finance Bill 2017 was passed before the beginning of the financial year.
GDP growth for the April-June quarter plunged to 5.7 per cent, because of demonetisation, and destocking by companies before the introduction of the goods and services tax (GST) owing to anxieties surrounding the new indirect tax regime.
With this, India lagged China in terms of growth in gross domestic product (GDP) for the second consecutive quarter. The Chinese economy expanded 6.9 per cent in each quarter.
Growth in manufacturing declined to 1.2 per cent in April-June, from 5.3 per cent in January-March. Mining and quarrying contracted 0.7 per cent during the quarter, after growing 6.4 per cent in the previous quarter.
Agriculture growth lost pace at 2.3 per cent, against 5.2 per cent in the previous quarter, and 6.9 per cent in October-December of 2016-17. This was despite crop production growing, even as livestock could not keep pace.
Several senior government officials told Business Standard that the Centre would continue pumping in public money into infrastructure, but it would be done keeping in mind fiscal considerations.
"The consumption story is pretty strong. We don't expect consumption to slow. The export story is also expected to move up again. The only channel which is weak is the investment channel. That is where you are targeting," said an official.
The official admitted that the fiscal numbers would have to be looked at carefully and the quality of spending will also be a consideration.
"The 3.2 per cent target is a high level of fiscal deficit. There is stress on account of some factors," the official said, adding that while the Centre was expecting higher year-on-year revenues from direct taxes due to better compliance post-demonetisation, from indirect taxes due to the GST, and from disinvestment, the data available so far had not been so encouraging.
"Revenue numbers are back-loaded, so we are hoping for an improvement," the person said.
The Centre's budgeted capital spending in 2017-18 is nearly Rs 3.10 lakh crore, which is some 25 per cent higher than the 2016-17 budgeted estimate of Rs 2.47 lakh crore, and nearly 11 per cent higher than the revised estimate of Rs 2.80 lakh crore.
A second official said that the thrust on public spending would come not only from the Centre but also cash-rich state-owned companies.
The PSUs have been told informally, like every year, to either pump up investment or pay the government higher dividends.
Additionally, the Centre's part-sovereign fund, the National Investment and Infrastructure Fund (NIIF), is expected to make a few announcements in the coming weeks, Business Standard has learnt.
Reacting to the GDP data on August 30, Union Finance Minister Arun Jaitley had termed the growth figures a matter of concern and had said that the government required to work in policy and investment to improve this situation.
The Centre is watching intently the medium-term results from the steps it has already taken, including demonetisation, GST, and starting the process of cleaning up the NPA mess through the Insolvency and Bankruptcy Code.
"What we feel is that things have started coming back on track, and are on their way to a normal course. We will see things going into positive territory. The adverse impact of GST and demonetisation has already played out," said the first official quoted above.
However, economists believe that the Centre is in denial and say that the problem for the government comes down essentially to balancing between reviving growth and maintaining the fiscal deficit target.
"If you believe you don't have a problem, then it's fine. But if you do have a problem, the fact is you don't seem to have any tools left to deal with that problem," said former chief statistician Pronab Sen.
Sen said that unless the government took concrete steps to boost growth, consumption would not revive, and exports would continue to suffer from an overhang of the exchange rate. "The bigger problem is imports, because of which the demand for domestic goods is also getting affected," Sen said.
In a note dated September 8, the State Bank of India's group chief economist, Saumya Kanti Ghosh, said that the Centre would have to spend more and keep aside fiscal concerns for the moment.
"India has always been majorly pro-cyclical in its fiscal policy stance with higher expenditure during periods of boom and reduced expenditure during periods of slowdown, except during the global crisis period," Ghosh had written.
"There is no harm if the government spends the proceeds arising out of GST on pushing capital expenditure. Any cutback in expenditure at this point will be majorly deflationary when private investment is unlikely to be forthcoming unless resolution starts happening in Q4FY18," he said.
The Centre and states had earned Rs 92,283 crore from GST in July, when the tax system was rolled out, against a target of Rs 91,000 crore.
While capex increased by one-third in the first four months of FY18, against the year-ago period, the government has still spent a little less than one-third of the Budget estimate in this category.
It can spend about Rs 20,000 crore this year without disturbing its fiscal deficit target, if receipts do not fall short and revenue expenditure does not overshoot the target.