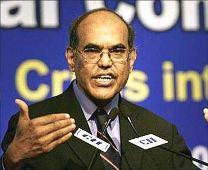 The Reserve Bank of India governor D Subbarao's actions in the rate-setting meet on Tuesday could set the tone for stocks in the week ahead.

The undertone on Dalal Street is of nervousness ahead of the policy meet, with investors worried if the central bank would tighten liquidity further, contrary to the market's expectation of keeping rates unchanged.

According to fund managers, expectations of a 25-basis-point increase in the cash reserve ratio of banks have heightened in the wake of RBI's surprise twin moves to make short-term money dearer as part of its attempts to curb the rupee's volatility.

However, few expect an increase in the repo rate.

"The market is expecting a 'policy on hold' approach by RBI. If it doesn't get worse, only the CRR will be hiked.

"But that will not be welcomed by the markets," said Amish Munshi, senior fund manager and head of research (equities) at Tata Mutual Fund.

Analysts said banking stocks would continue to bear the brunt if RBI tightens liquidity further.

Last week, the central bank had lowered the borrowing limits of banks, along with increasing the deposit levels in cash reserve ratio.

This impacted banks such as YES Bank and IndusInd Bank, among others, as they borrow wholesale from RBI.

Shares of YES Bank declined by 13.5 per cent during the week, while that of IndusInd Bank were down six per cent.

The Bank Nifty fell by about five per cent last week.

"The short-term measures taken by the RBI are an indirect indication of rate-hardening policy.

Markets could decline significantly if rates are hiked," said Rikesh Parikh, vice-president of equities at Motilal Oswal Financial Services.

The BSE Sensex, which was trading above the 20,000-levels through the week, closed below at 19,748.

Similarly, the NSE Nifty broke support levels ended the week below the 5,900 support-levels at 5,869.

"Market has broken crucial support levels. The strategy has now changed from 'buy on declines' to 'sell on rise'.

As a result, any rise towards 6,000 should be used to initiate fresh short positions.

The stop loss for the trade would be at 6,080 with potential lower side targets at 5,720 or lower levels," said Shardul Kulkarni, senior technical analyst with Angel Broking.

Investors will keep a close watch on the first quarter earnings of key companies such as Coal India, ICICI Bank, Dr. Reddy's, among others.

So far, results have largely been in line with analysts' expectations and the quarter performance would have limited impact on the market, said analysts.
Image: D Subbarao