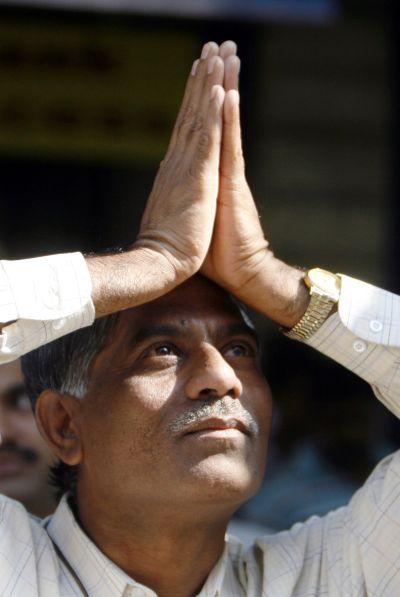 Investor wealth on Tuesday soared by nearly Rs 1 lakh crore as stocks rallied after the RBI hiked a key policy rate to tame inflation while enhancing liquidity for the banking system.
The BSE benchmark Sensex shot up by 358.73 points or 1.74 per cent to close the day at 20,929.01, the highest close since November 9, 2010 when the index settled at 20,932.48.
The Sensex had lost 324 points in the last five trading days. The NSE's broader index Nifty gained 1.96 per cent or 119.8 points to settle at 6,220.9.
At the BSE, 1,327 stocks advanced, while 1,135 declined. 75 stocks hit their 52-week high at the BSE.
Following the surge in the market, total investor wealth climbed nearly Rs 1 lakh crore to Rs 67,50,886 crore.
"Markets cheered the RBI decision and one-sided rally followed as Nifty closed on a strong note. Global cues remained flat to positive. Rate sensitive sectors such as banking and auto were seen in green. RBI's decision has come in line with market expectations," said Rakesh Goyal, Senior Vice President, Bonanza Portfolio Limited.
All 13 BSE sectoral indices advanced, led by interest rate-sensitive bank, realty and auto stocks.
Among the 30-Sensex blue-chips scrips, 29 ended the day with gains, led by Maruti that rose by 8.19 per cent.
BHEL was the sole loser on Sensex, falling 0.07 percent. The RBI increased the repo rate to 7.75 per cent and cut the marginal standing facility rate to 8.75 per cent, as was widely expected. It also increased liquidity provided through seven-day and 14-day repos.