N Chandrasekaran, chief executive and managing director, Tata Consultancy Services (TCS), is upbeat on the business environment, reflected in the company's second quarter performance. He completed four years at the helm, when the industry faced one of its worst crisis, and TCS has emerged stronger. He spoke to Shivani Shinde Nadhe about sustaining growth and TCS' growing importance in the Tata Group. Exceprts: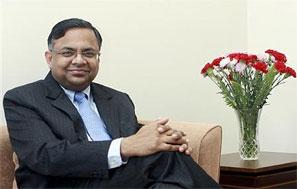 The second quarter performance had several benchmarks like volume growth of 7.3 per cent, operating margins at a record high and strong execution capability. Is this sustainable considering you have said volatility would continue?
There will always be something to worry about. From a macro-perspective, there will be some element of uncertainty. Certain industry or markets will have some problem. But from technology sector point of view the innovations that are possible due to new technologies that are emerging is immense.
Due to this, companies worldwide have to rethink and reimagine their processes and business models. That presents enormous opportunities. Besides, customers are also looking for simplification in technology — in ERP (enterprise resource planning), shared services, etc.

From TCS' perspective, our scale is large and to continue to deliver credible growth on this base is always a challenge.

At the same time, we have got a fantastic footprint and strong presence in industry segments and we have made significant investment in these opportunities. We have teams that are agile. We are well-poised to work with customers and realise opportunities and make a difference.

Have customers raised concern over the US shutdown? Any impact on budgets?
At this point, there are no alarms ringing. But I would wait for a few days.

For the past few quarters, growth has been volume-driven. Do you see pricing improving?
For the time being it will be volume-led growth. But this does not mean there is any pricing discount. We have stated earlier also, realisation is a factor of too many things. It is not only about services led, we have a bigger BPO play, we will have some vertical doing well in some quarters, there will be less working days in some quarters, etc.
There is no pricing decline at this point in time but to get a real increase in pricing at this time is difficult. Price increase will happen but in pockets.
TCS is becoming a stronger player in the Tata Group. In terms of either pulling up valuation or as a source of raising cash or even for entering new markets and becoming a beach head for group.
Any decision we make is taken by keeping TCS as priority. The Saudi Arabia deal is between TCS and GE, there is no other Group company involved. It was a business opportunity. We already have a good presence there. Every decision that we make at TCS is based on TCS. The Group being a significant shareholder of the company will accordingly get their share when the company does well.

Besides we have always been an international company. All the big international acquisition that the group has done happened seven-eight years ago but TCS has been a 90 per cent international company for long.

It's been four years since you took over the CEO's role. Since then TCS has changed drastically.
We are a very humble company but a hungry one. You never put a financial target and drive growth. We wanted to always focus on performance. Our principal has been that we would be aspirational. We have units that are manageable in size and client-centric.
From an employee dimension, the focus has been on generating the momentum of realising potential. We have made lot of investments in thought leadership. And on the execution front the aim has been faster execution.

It is a journey. I am a very reflective person. I would always look at how things could have been done better. I would never say that I am satisfied but yes I feel good about the way we are performing.

Europe did exceptionally well for the company. Do you think this will continue?
Europe will do well. We have seen traction in customers, both in terms of simplification and on financial segment and digital space. We are also beginning to attain critical mass in continental Europe. So we will do well in Europe in the years to come.

TCS may hit the 300,000 headcount mark by the end of this financial year. You will be one of the largest IT service companies by headcount globally.
Every associate we have is an asset. I think it's the people who make this company. I have always said the only way this company relaises its potential is when every individual in the company realise.