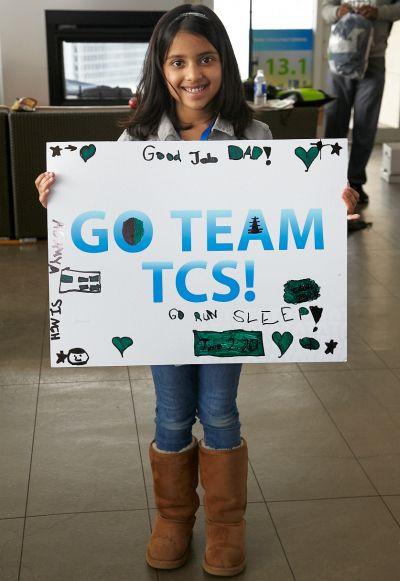 N Chandrasekaran, managing director and chief executive officer of Tata Consultancy Services, has consistently said he wishes to take the company beyond mature economies such as America and Europe, into emerging markets.
This week's announcement to set up an all-women business process outsourcing (BPO) centre with GE in Saudi Arabia is a step in this direction. Edited excerpts of talk with Shivani Shinde Nadhe on TCS' big bet on this region.
Is Saudi Arabia going to be a big focus for TCS?
Saudi Arabia is big focus for the Tata Group and TCS as well. The Group is serious about having a footprint in the region.
The centre is part of our global delivery network but will cater to the local market. More, it will create a huge impact due to the employee opportunity it will give to a women's workforce.
Why the need to set up a venture with GE, since you have had presence in the region for long?
Setting up centres across the globe is not difficult for TCS. We have been doing this for long.
But the scale on which we will be operating here is huge and a partner like GE will be helpful. We do have the call option and can in the future buy out GE's stake.
What is the investment you have made for the centre?
I would not like to look at this from only the financial perspective. We are bringing our entire BPO offering to this centre.
We have two anchor customers in Saudi Aramco and GE but will be expanding into banking, oil & gas, government and healthcare verticals.

Our investment is to bring TCS' global delivery network to this centre, our horizontal offerings like human resource outsourcing procurement, analytics and others.
How big is the contract from the two anchor customers?
Both Saudi Aramco and GE are existing clients. But the work to be delivered from this centre is all new.
The current commitment is 1,500 seats. GE has also committed for a few hundred seats. The work from both companies will go into multi-million dollars.
Saudi Arabia is a mature market in terms of information technology implementation. Hence, there will be opportunities to expand.
This will be an all-women's centre. Do you think it will be a challenge to get access to talent?
No, on the contrary, 60 per cent of higher education degree holders are women and they have limited employment opportunity.
We had similar reservations but after our due-diligence, we found access to talent would not be a problem. Besides, this venture is backed by the government there.