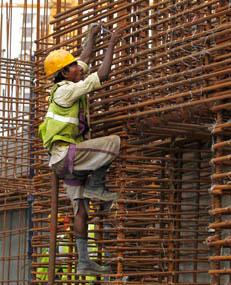 The Reserve Bank of India should strike a balance between price stability and growth when announcing its monetary policy, the finance minister said on Monday, hinting at his unhappiness over its rate hike decisions.
The RBI, the country's central bank, surprisingly raised interest rates by a quarter percentage point to 8.00 per cent last month, the third time since September, to dampen inflation. It also indicated it would target retail inflation for future monetary action.
A panel has recommended that the RBI should bring down CPI inflation to 4 per cent, plus or minus 2 per cent, from the current level of near 9 per cent.
"RBI must strike a balance between price stability and growth while formulating monetary policy," Finance Minister P Chidambaram told parliament while presenting his interim budget for the next fiscal 2014-15 that starts from April 1.
The country should be prepared to tolerate moderate inflation while aiming for higher growth, he said.
"In a developing country we must accept that when our aim is high growth there will be a moderate level of inflation," he said.
Later, he told a press briefing that an elected government must have a say in setting the direction and pace of economic growth.
"We have the RBI Act which talks about monetary stability. Monetary stability is impacted both by price stability and by low or high growth," he said.