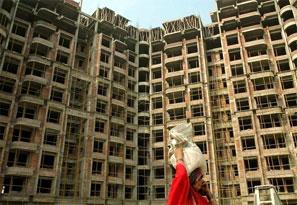 There has been an improvement in the financial metrics of construction and infrastructure companies in 2013-14 aided by a flurry of fund-raising and asset sales.
The combined debt to equity ratio net of cash and equivalents of the country's top 17 construction and infrastructure companies that are part of the BSE 500 index declined to 3.5x in 2013-14 from 3.7x in the previous year.
At the end of March 2014, the companies in the sample were sitting on Rs 4.2 lakh crore (Rs 4.2 trillion) debt, including deferred tax liability, down 2.8 per cent from the previous year.
In comparison, their net worth was up 4.6 per cent year on year to Rs 1.21 lakh crore (Rs 1.21 trillion).
In the past five years these companies' debt grew at a compounded annual rate of 27.3 per cent against a 14.2 per cent growth in their net worth (or equity).
"The trend reflects a flurry of equity issues and asset sell-off by infrastructure companies last year. The trend may continue for some time given the strong appetite for new issues among foreign investors and Dalal Street," said Dhananjay Sinha, head of institutional equity at Emkay Global Financial Services.
Some of the companies that raised capital recently were Jaiprakash Associates, GMR Infra, Larsen & Toubro, NCC and Hindustan Construction.
The improvement was led by a handful of companies like Adani Ports, GMR Infra, Reliance Infra and NCC. Many of the industry's heavyweights, including Jaiprakash Associates, Larsen & Toubro, IRB Infra, Punj Lloyd, Hindustan Construction and GVK Power & Infra, reported further slippage in their financial ratios (see chart).
The combined net sales of companies in the sample was up 4.7 per cent in 2013-14, growing at its slowest pace in the last five years, and operating profit was up just 4.6 per cent, growing much slower than interest liabilities.
This resulted in the interest coverage ratio falling to a five-year low of 1.6x in 2013-14.
In other words, these companies' operating profits were enough to cover just one-and-a-half year's interest liability.
This has slid from two years in 2012-13 and over three-and-a-half years five years ago (see chart).
Experts said infrastructure companies needed more capital and a sustained improvement in their financial ratios to meet Prime Minister Narendra Modi's vision of more public private partnerships in the sector.
In his maiden budget Finance Minister Arun Jaitley announced plans to extend public private partnerships to rail projects, defence and the clean-up of the Ganga.
India is among the world's top destinations for public private partnerships with nearly 900 projects at various stages of implementation.
"Most infrastructure companies and project developers are struggling with high debt and poor revenue and profit growth.
It will be tough for them to bid for new projects," said Atul Dhawan, partner at Deloitte Haskins & Sells.
"New equity inflow in the infrastructure sector has almost come to a halt, forcing companies to borrow excessively to fund projects.
There is a chance for these companies to attract fresh equity from foreign investors and restore their financial health," Dhawan added.
Large foreign capital infusion could, however, force many promoters to lose management control over projects, given the gap between equity and debt.