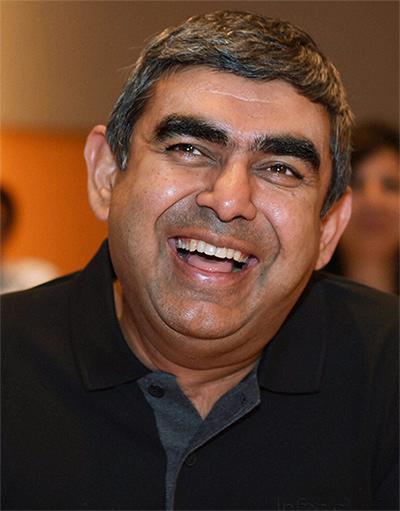 Infosys Chief Executive Officer-designate Vishal Sikka might be new to Indian information-technology (IT) services business, but his past credentials were enough for the company's shareholders to offer him a warm welcome at an Extraordinary General Meeting (EGM) that was called to seek approval for his appointment, among other things.
Every statement Sikka made, and often his mere mention, attracted applaud from the nearly 200 shareholders present at the venue.

While offering the leader this warmth, shareholders did not refrain from voicing their ambitious expectations from Sikka, especially considering his hefty salary of up to $5.08 million (Rs 30 crore),
"With a salary of Rs 1, N R Narayana Murthy brought a net profit of Rs 10,000 crore. So now, we can predict proportionate increase to the net profit since the new CEO's (annual base) salary is $900,000," said K Sadananda Shastri, a shareholder of Infosys.
Another shareholder added, "as Murthy said Sikka means money, and (we hope) he brings a lot of money to the company and to the staff and shareholders."
Despite it being his first meeting with shareholders, Sikka exuberated confidence, offering to answer questions that were directed to him.

Impressing the old-time shareholders of Infosys, Sikka not only spoke about retaining and taking forward the legacy culture of the company, but also enthused the younger shareholders by discussing plans to bring in innovation.
Even as one shareholder highlighted the absence of Founder and Non-Executive Chairman N R Narayana Murthy at the event (as he is recouping from an eye surgery), the excitement about future prospects with Sikka at the helm overshadowed most sentiments about the same.