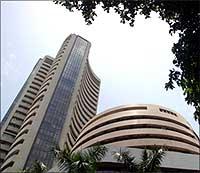 Soaring inflation and political unrest in Egypt will continue to haunt Indian shares in the near term, prompting a further selloff from overseas investors, said experts.
India's key stock market indices - the Sensex and the Nifty - have lost more than 12 per cent so far this year, the worst performance among all emerging markets.
On Friday, the Sensex barely managed to hold above 18,000, while the Nifty ended below 5,400.
"Rising food prices and investors' concern regarding inflation in emerging markets have been the main reasons why the emerging markets trade has struggled recently," said Maarten-Jan Bakkum, global emerging markets equity strategist at ING Investment Management, in a note.
"The end of the emerging market monetary policy tightening cycle needs to be in sight before the markets start embracing the longer-term 'EM superior growth' theme again," he added.
For the week ended February 2, India-focused equity funds suffered the largest weekly outflow since early June 2010, according to EPFR Global, which tracks fund flows into world markets.
Foreign institutional investors have net sold Indian shares worth $1.21this year till February 3, according to Securities and Exchange Board of India data.
According to Bakkum, recent developments in Egypt have added to the nervousness about emerging markets, as turmoil in West Asia pushes oil prices higher. This is a major concern for a country like India, which imports more than two-thirds of its oil requirement.
India's food price index rose 17.05 per cent and the fuel price index climbed 11.61 per cent in the year to January 22, according to data released on Thursday.
To tame inflation, the Reserve Bank of India was expected to raise rates by at least 75 basis points in the financial year ending March 31, 2012, said Indranil Sen Gupta, director and chief India economist, Bank of America Merrill Lynch.
Technically, too, the market has not bottomed out yet, said experts.
"We are in the middle of a bear market. Considering the history, the market should bottom out in the next one-two months," said Deepak Mohoni, founder of Trendwatch (India), which predicts market movements based on technical analysis.
"The Sensex and the Nifty are likely to find support well before the 16,000 and 4,800 levels, respectively," he said.