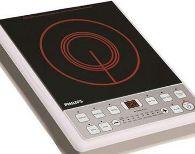 Rightly so, the United Progressive Alliance government's decision to cap the availability of subsidised cooking gas cylinders per family to six per year while non-subsidised cooking gas will be amid available at Rs 750 has invited the wrath from various corners.
But this curse for the common man may turn out to be a blessing for induction cooker sales in the country.
Now, the Rs 1,200 crore induction cooker industry has got a much needed boost to go for an all out marketing battle against the gas stove segment pegged at Rs 1,300 crore.
"We should thank government, induction cooker sales are going to boom, in which we are already the number 2 player. If non-subsidised cooking gas would cost you about Rs 800, the cost of using induction cooker would be around Rs 400 only," claims Shekhar Bajaj, Chairman and Managing Director, Bajaj Electricals.
In terms of numbers, the size of the industry is estimated at 3.86 million units. The major players include Bajaj, Prestige, Philips, Morphy Richards, Khaitan, Usha, Jaipan, Crompton Grieves, Pigeon, Sunflame, Preethi, Glen GL, Inalsa, GreenChef and Kenwood.

Even analysts believe that the government move, even if the cap is increased a bit, will be the right impetus for the boosting industry where majority of customers fall on an income range between Rs 20,000 – 30,000.
"An induction cook top is 80-90 per cent effective as compared to the 70 per cent  of a traditional electric stove and the 31 per cent of a gas stove. This means a huge cut in energy consumption, less pollution and a lower utility bill," states Krunal Mehta, vice-president, brand management, Angel Broking.
While Prestige is the market leader with 25 per cent share, it is followed by Bajaj with 17 per cent and Preethi with 8 per cent. Prestige is the leader in all zones, except East, where Bajaj is the market leader.
Echoing others, Genevieve Tearle, marketing director – domestic appliances and coffee, Philips India, adds, "Over the last year the market for Induction Cookers has grown very strongly as consumers look for alternatives to gas due to long replacement times for gas cylinders in certain areas of the country. While the announcements on changes in gas tariffs are still too fresh to tie to any significant change in the recent weeks, we expect that this will continue to fuel growth in categories such as Induction Cookers, Rice Cookers and other products."
According to experts, conventional LPG cook-top uses only 40 per cent of the energy produced to heating up the cookware. Where induction cook tops are 84 per cent efficient, only 16 per cent of the energy is wasted.

However, Mehta believes that in order to capitalise the situation companies should spend more on advertising and on after sale services for the induction cookers, where price starts from Rs 2500.

Unlike an LPG cook top, heat is transferred from induction cooker to the vessel by way of magnetic induction, not through an open flame.