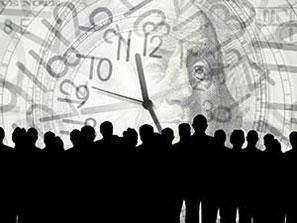 Indirect tax collections grew by 5.1 per cent in the April-September period of this fiscal, a finance ministry official said.
Total collection of indirect taxes - excise, customs and service tax - stood at about Rs 2,28,550 crore (Rs 2,285.5 billion) during the first six months of 2013-14, the official said.
Excise collection dropped 6 per cent during the period to over Rs 89,000 crore (Rs 890 billion), against the same period in the last fiscal year, reflecting slump in manufacturing activity.
Customs mop up was up 10 per cent to Rs 80,550 crore (Rs 805.5 billion) during the period, the official said.
Service tax collection, which has become a new focus area for revenue officials, grew by 16 per cent to Rs 59,000 crore (Rs 590 billion) during the period.
In September, total indirect tax collection stood at Rs 42,700 crore (Rs 427 billion), up 13 per cent from the same month last year.
Government has set indirect tax collection target of Rs 5.65 lakh crore for 2013-14, up from Rs 4.73 lakh crore in the last fiscal.