The largest airline by market share IndiGo on Thursday criticised the government's proposal to cap lowest and highest airfares, and said the airline will increase its capacity by 16 per cent next fiscal.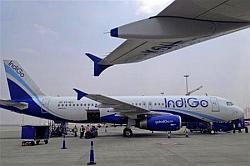 "The aviation ministry is not in the business of regulating tariffs, which should be low and sustainable. Prices should be determined by the demand-supply logic," IndiGo President Aditya Ghosh told reporters on the sidelines of the ongoing Nasscom summit in Mumbai.

He blamed seasonal factors for current low fares, as the winter is normally a slack season for airlines across the globe.

Soaring air fares have led the Civil Aviation Ministry to consider a proposal to cap the highest and the lowest ticket prices, which the airlines would not be allowed to cross.

Also low-cost carrier SpiceJet launched a limited period low-fare scheme in January wherein it had offered 1 million tickets at Rs 2,013, the sectoral regulator had reportedly wrote to airlines advising against doing an encore of the Chennai-based
carrier.
On capacity expansion, Ghosh said, the airline is looking at ramping it by 16 per cent next fiscal during which it is also expecting to add 11 more new planes to its fleet. Currently, the airline has 63 fleet connecting 33 destinations. "We are going to add 11 more aircraft this year," Ghosh said.
He denied reports that the airline is planning to launch a regional carrier to tap the small-town markets.