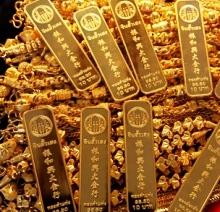 India's gold demand is likely to increase by over 15 per cent during the last quarter of this year to up to 300 tonne from last year on account of good monsoon and 20 per cent more auspicious days this festival season, the World Gold Council said on Tuesday.

"There is all indication that the overall gold demand during the October-December period will be robust and the demand is likely to be at around 250-300 tonne," WGC Managing Director, India, Somasundaram PR told reporters in Mumbai.

"This will be because there are 20 per cent more auspicious days during this festivals compared to last year and also because there was a good monsoon.

"There is also a pent up demand that could re-surface after a difficult September quarter," he said.

Currently, gold prices are also reasonable, which will help boost the demand.

Today, the gold prices was ruling at Rs 29,565 per 10 grams.

He further said the total demand this year will be 900-1,000 tonnes. Even the retailers are expanding and people will continue to buy gold, he added.

In 2012, Q4, the country's demand for the yellow metal during stood at 260.3 tonnes and for the entire year it was 863 tonnes.

Asked about recycling, he said, it will further decline mainly due to the import restrictions.