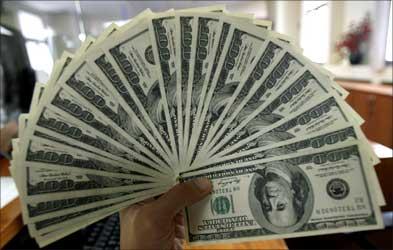 India's foreign exchange reserves rose by a healthy $1.51 billion to touch $279.240 billion in the week to October 11 on account of growth in a key component of the assets, the Reserve Bank said.
This was the second straight week of gains. In the previous week, the reserves had increased by $1.46 billion to $277.73 billion.
Foreign currency assets (FCAs), which form the largest chunk of the reserves, jumped $1.527 billion to $250.852 billion for the week under review, the RBI said.
FCAs, expressed in dollar terms, include the effect of appreciation or depreciation of the non-US currencies such as the euro, pound and yen, held in the reserves.
The gold reserves remained unchanged at $21.765 billion in the week ended October 11, according to RBI data.
The special drawing rights dipped by $9.6 million to $4.430 billion in the reporting week.
India's reserve position in the IMF declined by $4.7 million to $2.193 billion, the data showed.