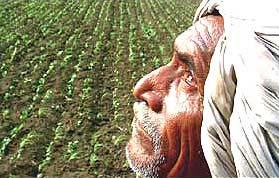 India's agriculture and allied sector grew by 3.8 per cent in the first six months of the current fiscal, against one per cent in the year-ago period on the back of better Kharif crop output.
According to the GDP data released by the Central Statistical Organisation on Tuesday, the country's farm sector grew by 2.5 per cent and 4.4 per cent each in the first two quarters of the current fiscal, against 1.9 per cent and 0.9 per cent, respectively, in the same period last year.
"Apart from production of Kharif crops, the growth in 'agriculture, forestry and fishing' estimates of GDP in the second quarter are based on the anticipated production of fruits, vegetables and other crops, livestock products, forestry and fisheries, which show growth in the range of 3-4 per cent," the release said.
In 2009-10 fiscal, the agriculture sector recorded its lowest growth in five years, at 0.1 per cent, due to widespread drought across the country.
The sector had grown by 1.6
per cent in the previous fiscal. The government has set a target of 4 per cent farm growth per annum in the 11th Five Year Plan period (2007-12).
According to the first advance estimate released by the Agriculture Ministry, overall foodgrains output in the 2010-11 Kharif season is pegged higher at 114.63 million tonnes, as compared to 103.84 million tonnes in the year-ago period.
Rice output is estimated at 80.41 million tonnes in the current Kharif season, against 75.91 million tonnes in year-ago period.
Similarly, pulses output is estimated to improve to 0.76 million tonnes from 0.46 million tonnes, while oilseeds production is seen also forecast at 17.27 million tonnes against 15.66 million tonnes.