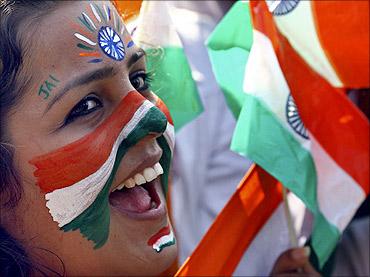 India's economic confidence improved last month in view of falling food prices and growth in exports, says a report.
India is among the top 10 nations in terms of economic confidence, said the report by Global research firm Ipsos.
The country's economic confidence improved marginally due to falling food inflation, stabilisation of rupee and steady growth of exports which has helped to narrow the Current Account Deficit (CAD), it said.
"India continues to hold the number seven position as the most economically confident country in the world after Saudi Arabia, Sweden, Germany, Canada, Australia and China," Ipsos added.
The nation's economic confidence increased marginally by 1 point to 52 per cent in December, compared to the previous month, according to the report titled 'Ipsos Economic Pulse of the World'.
As per the report, three in 10 Indians believe that the local economy, which impacts their personal finance, is good.
"Indians are very hopeful that the general election will trigger economic growth and stability; with four in ten (43 per cent) people expecting that the economy in their local area will be stronger in next six months, a slender rise of 1 point," it added.
The findings are based on an online survey that covered more than 21,800 people in 24 countries. Mick Gordon, CEO of Ipsos in India, said it looks like gloomy days are over for the Indian economy.
"The mood in the country is definitely that of cautious optimism. With better growth expected in 2014 both from domestic and global markets, demand for goods and services are likely to shoot up leading to growth of key sectors," Gordon noted.