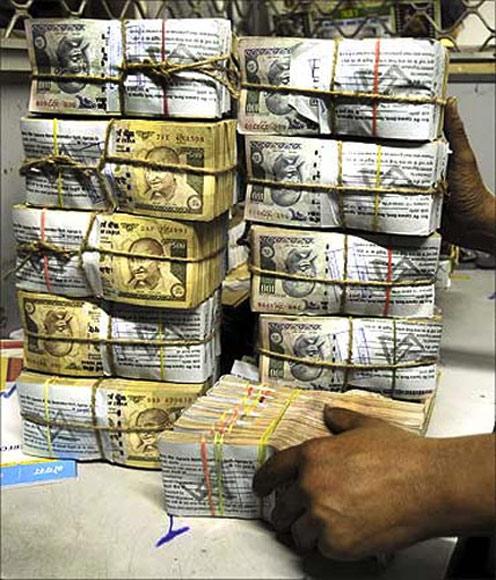 India's current account deficit which narrowed in the second quarter of this fiscal, however, is likely to widen during the second half of FY 2013-14 as seasonal demand bring in more imports, an HSBC report says.
According to the global brokerage firm, the deficit is likely to widen again as imports get a lift from seasonal demand and a gradual recovery in domestic demand.
Decline in gold imports and turnaround in exports helped narrow India's current account gap to $5.2 billion, or 1.2 per cent of GDP, in the July-September quarter of this fiscal.
The current account deficit (CAD), the difference between outflow and inflow of foreign exchange, was at $21 billion, or 5 per cent of the GDP, in the second quarter of last fiscal.
"Despite the narrowing of the deficit in recent quarters and successful measures to attract capital inflows, policy makers have to continue their efforts to reduce India's vulnerability to external spillovers ahead of Fed tapering," HSBC Chief Economist for India and ASEAN Leif Eskesen said.
The country's CAD is likely to narrow notably from last year, aided also by firming exports, however, policy makers should continue to reduce vulnerabilities ahead of Fed tapering, the report said.
The government has taken several steps, including hike in gold import duty to 10 per cent and restrictions on import of gold bars and medallions, to restrict CAD. It has also taken measures to boost exports.
"While deficit has narrowed and steps to improve its financing have been successful, policy makers should not rest their laurels and continue efforts to reduce vulnerabilities ahead of Fed tapering," it said.
Lower CAD during the second quarter was primarily on account of a fall in the trade deficit as merchandise exports picked up and imports moderated, particularly gold imports.
Both the government and RBI are expecting the CAD to be below $56 billion in the current fiscal compared to the record high of $88.2 billion, or 4.8 per cent of the GDP last fiscal.