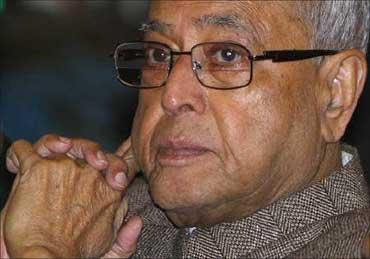 Stating that economy is recovering now, President Pranab Mukherjee on Thursday expressed the hope that it will back in path of steady growth soon.

"The Indian economy is witnessing a rebound. I do hope that shortly it would come back in the path of steady growth," Mukherjee said after inaugurating the 'India Chem 2012' conference in New Delhi.

"Our National Manufacturing Policy envisages increasing the share of manufacturing from the present level of 16 per cent to 25 per cent in GDP by 2025 and creation of 100 million additional jobs by the manufacturing sector by 2022," he said.

"The chemical sector has a very important role to play in this endeavour. I understand the National Chemical Policy is currently under preparation and will include measures to facilitate this," Mukherjee said on his maiden visit to Mumbai  after becoming the President.

He called upon the chemical industry to increase its spend on research and development from the current level of 1-2 per cent to 5-6 per cent of the annual turnover.

The aim of chemical industry should be to bring new products that are competitive in the international market.

For achieving this, the government has taken several pro-active steps in expanding R&D and infusing energy and support for human resource training institutions.

Efforts should be made to nurture the talent and make sure that the skill development programme matches the growth requirement of the industry, the former Finance Minister said.

With Asia's share in the global chemical industry increasing from 31 per cent to 45 per cent, India has emerged as one of the focus destinations for chemical companies worldwide.

The Indian chemical industry, currently valued at $108 billion accounts for only 3 per cent share of the global market.

"This is a very good reason for the policy makers and the industry to take the lead and prepare a road map," he said.
Image: Pranab Mukherjee