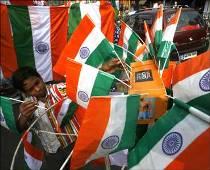 Stating that the worst is over for the Indian economy, financial major Citigroup on Friday said the country is likely to clock a growth rate of 5.4 per cent in 2012-2013 fiscal year.
"Going forward, while we maintain our view that the worst is over, we maintain our FY'13 GDP estimate of 5.4 per cent as the anticipated pick-up in industry could likely be offset by the poor summer crop output," Citigroup said in a research report.
The report further added that headline growth is likely to improve as "consumption will likely benefit in a pre-election year while investments could get a leg up with the National Investment Board".
The government data today showed the economy grew by 5.3 per cent in the July-September period of the current financial year (2012-13), pulled down by poor performance of manufacturing and agriculture sectors. The gross domestic product (GDP) had expanded by 6.7 per cent in the same period of last fiscal.
India's GDP growth was at 5.5 per cent in the first quarter (April-June) of 2012-13. On the rate cut front, Citigroup said, there will be a easing of 50 basis points in fiscal year 2013, and there is a very little probability that the RBI will go for a rate cut in its December meeting.
"While we maintain our 0.50 per cent of easing in FY'13, the 5.3 per cent 2QFY13 GDP reading v/s our expectation of 5 per cent does reduce the probability of RBI action in the December 18 policy," the report said.
Some of the major events prior to the RBI policy meet include policy progress in the Winter Session of Parliament, inflation data on December 12 (CPI) and December 14 (WPI) and IIP data on December 12.
"We expect some traction on investments and fiscal measures – cash transfers and tax reforms. That apart, our estimates remain the same," Citigroup said.
According to the report GDP growth would be at 5.4 per cent in FY'13 and 6.2 per cent in FY'14, inflation around 7 per cent, policy rates easing of 0.75 per cent by FY'14, deficits both fiscal and current account deficit elevated, but lower than the past.
India had been growing around 8-9 per cent before the global financial meltdown of 2008. The growth rate in 2011-12 slipped to a nine-year low of 6.5 per cent and in the quarter ended June 30, 2012, the economy grew by 5.5 per cent.
The government had earlier indicated that the economy may expand by 5.5-6 per cent this fiscal.