The FM's statement assumes significance in the light of scams in the state-owned banks.
Concerned over instances of corruption in the PSU banks, Finance Minister Arun Jaitley on Thursday said that government is taking steps to professionalise the management and help them strengthen their risk management system.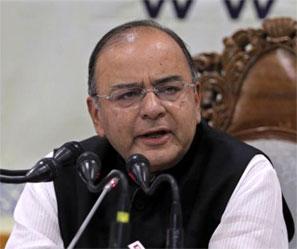 "Professionalising the management of the banks, we have taken some decisions in this regard. We expect banks to have better risk management. The Department of Financial Services has been actively working in this regard," Jaitley said at a function organised by Indian Bank in New Delhi.
Without specifying names of banks, the finance minister said "some recent incidences have been disturbing. I only hope that they are drop in the ocean. We have all learnt the lessons from such incidents, and there will be no repetition of them."
His statement assumes significance in the light of scams in the state-owned banks.
Earlier this month, Syndicate Bank chairman and managing director (CMD) S K Jain was arrested for allegedly receiving a bribe of Rs 50 lakh (Rs 5 million) to enhance credit limits of Bhushan Steel and Prakash Industries.
Besides, some officials of Oriental Bank of Commerce and Dena Bank were suspected of misappropriating funds worth Rs 436 crore (Rs 4.36 billion) from their fixed deposit customers.
The government has initiated a forensic audit in the alleged scam.
The finance minister, however, expressed hope that an enhanced level of professionalism will further strengthen and improve credibility of the banking system.
"Credibility is of extreme importance as far as banking system is concerned. We must endeavour improved standards of credibility," he added.