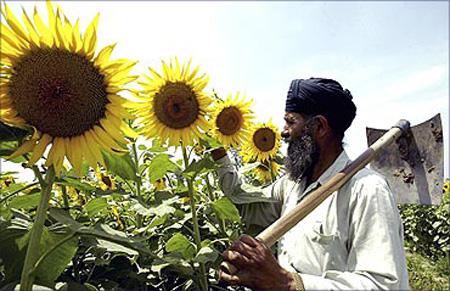 India is expected to harvest bumper crop this year based on estimates of higher food grains production in Kharif (summer sown) and hopes of better Rabi (winter) crop with enough water in reservoirs, Finance Minister P Chidambaram said.
He also said that the agriculture credit has grown by 12.1 per cent during April-August period of this fiscal.
"On agriculture, we estimate this would be a very good year. The first advance estimates of Kharif foodgrains production shows that output will be 10.3 per cent higher than the first advance estimates of the last year," Chidambaram said.
"Most of the reservoirs are either full or nearly full. This augurs well for Rabi crop as well. So we believe that if the estimates of Kharif productions hold and then with enough water Rabi crop also turns out to be good, this year there would be bumper harvesting," he added.
Foodgrains production is estimated at 129.32 million tonne in the Kharif season of 2013-14 compared with 117.18 million tonne as per the first projection of Kharif season last year on account of good monsoon.
However, foodgrains output stood at 128.20 million tonne in Kharif last year as per the final estimates. The crop year runs from July to June.
"In agricultural sector, there has been credit growth of 12.1 per cent in April-August period as compared to the same period a year ago," Chidambaram said. The government has set farm loan disbursal target of Rs 7 lakh crore for the current fiscal.
Stating that inflation is fuelled by food, Chidambaram said: "One of the crucial decisions we took was the Ministry of Food would offload the stocks of wheat under the dynamic model where they will identify places where prices have spiked and then offload wheat in those markets in order to cool the market."
The government allowed the food ministry to dynamically price at which wheat would be offloaded in the domestic market. "I think that is beginning to show results," he said.
The Centre has sold 4,34,174 tonne wheat since the CCEA took the decision for dynamic pricing in July to check prices.
"All together, they have sold 5.67 lakh tonnes. This includes direct sales to small traders. More wheat will be sold. There is empowered group of secretaries which is mandated to undertake this task. I think that offloading wheat will cool down markets," Chidambaram observed.