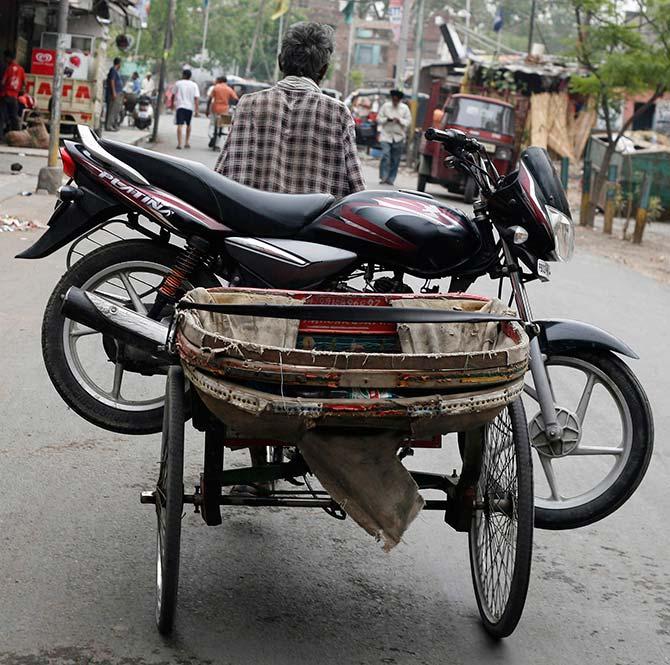 The Finance Ministry on Thursday said the growth rate in the current financial year will accelerate to 5.8 per cent, better than previous estimates, saying the green shoots of economic recovery are now visible.
"I am very confident that we will achieve somewhere close to 5.8 per cent... If we see the trend growth, then we will see there are green shoots of recovery in the economy," Finance Secretary Arvind Mayaram said at an Assocham event.
The Reserve Bank has projected the GDP growth for 2014-15 fiscal at 5.5 per cent and the Economic Survey had pegged the growth at between 5.4-5.9 per cent.
The GDP growth had slumped to 4.7 per cent last fiscal. "The Budget for current fiscal has very strong growth impulses," Mayaram said, adding that industrial output and passenger vehicle sales is showing signs of revival.
"There is clearly visible sign that infrastructure is picking up," he said, adding, corporate order book is building up. He hoped that the Reserve Bank of India would not hold interest rates high for longer than necessary as inflation is showing signs of deceleration.
"We see inflation is going to come down further and we hope that as he Governor in the recent credit policy stated, RBI will not hold interest rates high any longer than is necessary and I hope that threshold we will reach soon now," Mayaram said.
The WPI inflation dipped to a five month low of 5.19 per cent in July, while the retail inflation was at 7.96 per cent. Mayaram said with softening of oil prices, the prices of diesel will soon become market driven.
"We have been lucky on oil. And if you see the oil prices which have been softening, I think that we will be able to exit the diesel subsidy soon enough and diesel is going to become market price," he said.
In next 2-3 years, the subsidy burden on government is going to come down significantly, Mayaram said.
"The decision of the government which stands today is reduction in diesel subsidy by 50 paise which means increase in prices by 50 paise. So logical conclusion is that as and when that is over it will become market driven," he said. He added that the government will stick to the fiscal deficit target of 4.1 per cent in the current fiscal.
"I have this great optimism and hope that we are not only in right direction, but perhaps with the measures that has been announced by the new government, and the manner in which they are being implemented with speed and determination, we will be able to set an example in an world which is recovering from a sluggish growth syndrome and perhaps contribute significantly to global growth," he said.
He said with tax buoyancy of 19 per cent in current fiscal, with an economic growth of 5.8 per cent is "not an unachievable target". On Current Account Deficit, he said in the current year it will be below the level of 2.5 per cent.
The CAD, which is the difference between inflow and outflow of foreign exchange, has narrowed sharply to $32.4 billion (1.7 per cent) in last fiscal. It was $87.8 billion (4.7 per cent) in 2012-13.
"I believe it will be little higher (this fiscal) on account of higher imports of intermediates -- raw materials and components, which clearly shows uptick of manufacturing sector," Mayaram said.
On Public Private Partnership (PPP) projects, he said: "there were some difficulties in some areas, that was because economy was sluggish. Now that decisions have been taken by the government and the economy is picking up, we are confident that PPP projects will also start picking up".